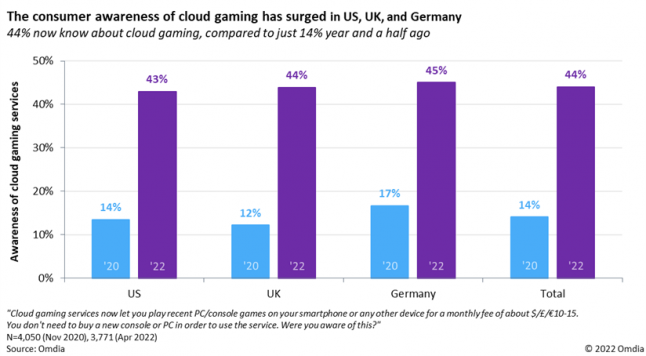 In April 2022, Omdia polled over 3,700 consumers in the US, UK, and Germany to gain insight into their awareness and uptake of cloud gaming services. Compared to our findings from a similar survey in November 2020, there has been a surge in awareness of cloud gaming services, but the number of subscribers has remained modest – yet again highlighting the nascent, but rapidly-developing state of the cloud gaming market.
Cloud gaming services see phenomenal increase in consumer awareness
44% of respondents in US, UK, and Germany said they were now aware of cloud gaming services which let users play PC or console games on a smartphone or any other device. This is up significantly from 14% at the end of 2020.
Figure 1 (Above): Awareness of cloud gaming services saw 30 percentage point increase over the last year and half
According to Omdia's Cloud Gaming and Subscriptions Revenue Forecast 2021-26, services offering cloud gaming generated $3.7bn in 2021, with Xbox and PlayStation being responsible for 72% of this revenue. Over the next five years, revenue from such services will expand at an impressive CAGR of 54%, with total annual revenue reaching $12 billion in 2025, or about 7.5% of total consumer spend on games across all formats.
Improved awareness hasn't greatly boosted subscriptions
Although cloud gaming services have existed for many years, real momentum has only started to build in the last three years, driven by investments from large game publishers and tech giants. Prominent launches of Amazon Luna, Google Stadia, Microsoft Xbox Cloud Gaming, and Nvidia GeForce Now – as well as PlayStation's refocused approach for its long-running PlayStation Now service – have solidified dedicated gamers' familiarity with cloud gaming. As this technology improves and is expanded to more markets, we expect cloud gaming to become an increasingly integral element of the console and PC gaming experience.
Figure 2: Increase in overall awareness hasn't translated to massive uptake of subscriptions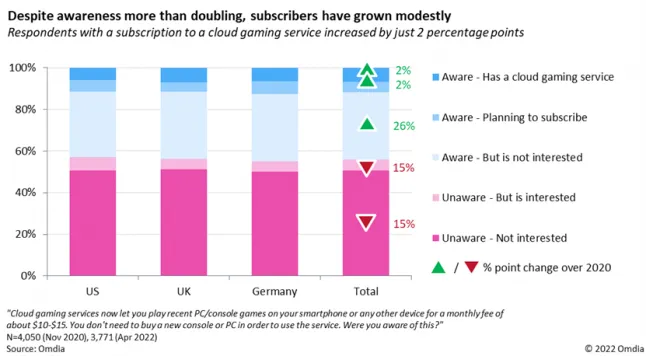 Meanwhile, casual gamers have remained largely apathetic, but we don't think this will be a significant barrier to mass consumer adoption of cloud gaming. Cloud gaming services focused on casual and family segments emphasize the instant playability of games, without focusing on the technology. This approach is most evident on the Facebook Gaming platform, where cloud gaming titles are offered alongside browser-based Instant Games. We predict that Netflix will soon offer streaming for simple games within its app, meaning that eventually, many more will be unknowingly playing games in the cloud.
Omdia's surveys were conducted in November 2020 and March 2022 on desktop and mobile devices. 4,050 (2020) and 3,771 (2022) respondents in the US, UK, and Germany were asked: "Cloud gaming services now let you play recent PC/console games on your smartphone or any other device for a monthly fee of about $10-$15. You don't need to buy a new console or PC in order to use the service. Were you aware of this?" A broad spectrum of age groups were surveyed, however results are not nationally representative.