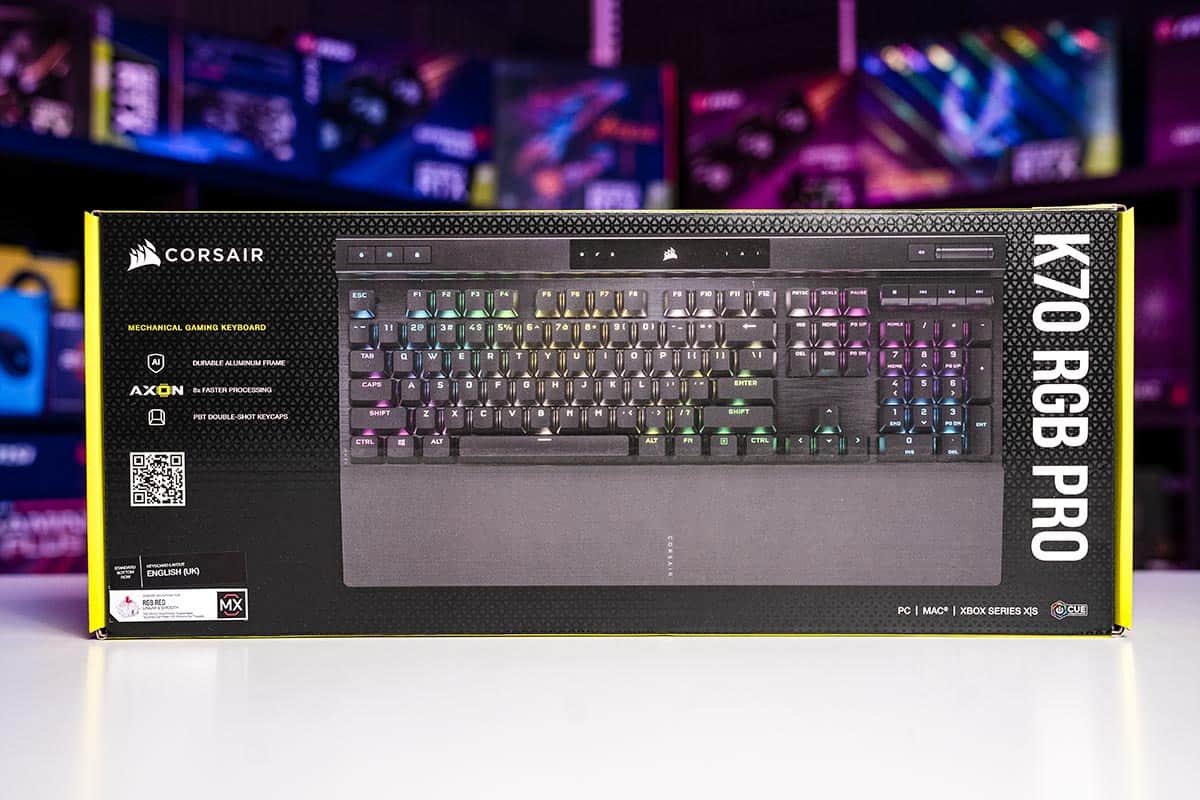 Last Updated:

Corsair had its beginnings back in the 90s as a manufacturer of RAM, these RAM modules proved popular with PC enthusiasts who liked them for their overclocking abilities which paved the way for Corsair to become a gaming-focused company. Since then they've expanded their product lineup to include headsets, keyboards, and mice, the list truly does go on. The only things they don't make are GPUs and CPUs, but it won't be long until they dip their topes in that market either.
Today we've got the latest revision of the K70 series, the K70 RGB Pro. Corsair's K70 keyboards have enjoyed high sales numbers and mostly positive reviews over the years, despite their high price points. Let's see if the latest and greatest can continue that trend.

Corsair K70 RGB Pro mechanical gaming keyboard
Switch type
Cherry MX Red, Blue, Brown, Speed, Silent
Cons



Pinging defect on most keys




Far too expensive




Tournament mode still allows use of the tab and windows keys
Cherry MX Red, Blue, Brown, Speed, Silent
What's in the box & setup
Corsair K70 RGB PRO Mechanical Gaming Keyboard
Braided USB Type-C cable
Safety leafet
Warranty card
As we saw with the HS55 Stereo gaming headset, Corsair's box design is a striking yellow and black, with slogans, product imagery, and features splashed around here and there. Opening the box reveals the K70 RGB Pro sealed in a plastic bag, it's not the most secure packaging we've seen but it's serviceable enough. There are two small blocks of high-density foam attached to the lid to prevent the keyboard from flinging around during transit.
Setup is a fairly minimal experience too, simply plug the frightfully nice-feeling included USB Type-C cable into both the keyboard and your PC, and it's up and running. Corsair's iCUE software as always is recommended, but not vital as the keyboard functions fine without it, however, those of you with an appetite for RGB will want to install it to customize the strikingly vivid per-key RGB lighting.
Design
Those of you who've seen the previous K70 will be hard-pressed to tell the difference as Corsair has done very little with the design of this version. They have, however, mercifully done away with the overly wide legends on the keycaps, in addition to updating it with the current Corsair logo. In terms of the keys, nothing has changed aside from the font, so we'll move to a more interesting section, the forehead.
This has been revised to remove the more extraneous parts of the design from the previous generation. All that remains is the brushed aluminum from the top plate, the media keys, and a small glossy rectangle displaying the Corsair logo and num, page, and caps lock light when the corresponding keys are pressed.
The most notable visual change is the included wrist rest. It's no longer needlessly bisected with a strip of different texture. It's now covered with a pattern of absolutely tiny triangles with an elegant perpendicular strip that reads 'C O R S A I R'. We really like the minimalist shift of the overall keyboard design when compared to its predecessor.
Given the aforementioned minimalism, there isn't much to talk about visually speaking, but there is a lot to go over when it comes to the build quality of the K70 RGB, so let's do that.
Build quality
This is where things begin to go downhill for the K70 RGB Pro, as there are some pretty big issues that affect the experience and shouldn't be present given the chart-topping $169.99 price. The first cardinal sin is the ubiquitous and inescapable pinging noise that accompanies every keystroke. Ping is caused by the keystroke reverberating through the plate on which the switches are mounted. When the plate is made of either substandard materials or badly designed, the ping can be audibly noticeable and, in some cases, you can feel it too.
A quick session of slapping keys on the previous version of the K70 reveals no ping whatsoever, so we aren't too sure why ping is found here. Looking at other reviews we noticed that ping is mentioned frequently, confirming that our sample isn't an anomaly and ping is present throughout the K70 RGB Pro product lineup, which is unfortunate, especially given the price point.
Other than the ping, the board is constructed well, exhibiting very little flex, and, to our surprise, PBT keycaps. Additionally, they are Doubleshot which is nice to see, especially considering how we continue to find ABS on even premium keyboards like the ASUS ROG Falchion.
Corsair K70 RGB Pro gaming & typing performance
Given that gaming results in far fewer keystrokes than typing, the K70 is perfectly cromulent for gaming. We were provided with the Cherry MX reds in our sample and the parochial linear switches function as usual for gaming, this combines with the full-size layout to result in a jack-of-all-trades keyboard that is neither specialized nor dysfunctional, regardless of the intended use-case.
Corsair has also provided an optional 8,000Hz polling rate for this keyboard. For the uninitiated, this means that the keyboard will relay its data to your PC 8,000 times a second. This is an entirely superfluous feature, as we're willing to bet that you can't press a key more than 8,000 times per second. This feature doesn't hurt or hinder anything about the keyboard, but we wonder whether the price would be more reasonable if it was removed.
Additionally, there is a physical tournament mode switch on the top side of the keyboard. When enabled, it makes the lighting a static color of your choice and disables all macros. This helps you focus on the game in question, however, most tournament modes disable the tab and windows key too, which prevents you from accidentally opening another window on top of the game, whereas both of these keys remain operational with the K70 RGB Pro's tournament mode.
As mentioned earlier, the seemingly ubiquitous pinging issue does put a damper on the overall experience. It is mostly unnoticeable while gaming, especially if you habitually wear a gaming headset, it makes the feeling of typing massively underwhelming, particularly when you compare it to the earlier models in the K70 product lineup.
Key switches
While our sample was outfitted with Cherry MX Red switches, the K70 RGB Pro is also available with Cherry MX Blues, Browns, Speeds, or Silents. So, should you buy this board, there is a decent range of switches to choose from. However, as this keyboard is not hot-swappable, you're stuck with the switch you choose, which is a huge downside considering the price and how common hot-swap boards are becoming recently.
Cherry MX Red specs
Actuation force: 45cN
Pre-travel: 2.0mm
Total travel: 4.0mm
Software
The Corsair iCue software has come a long way over the years, with update after update making it both more usable, and far more taxing on your system. To be fair to Corsair, gaming peripheral software suites are some of the most poorly optimized programs out there, so the heavy RAM usage isn't out of the ordinary.
Additionally, iCue has a few fun features that we don't see often with peripheral software. Most notable of which is the internal component temp readout, which is probably the most convenient way to see your temps, without downloading software specifically to do it. You can also sync the lighting of the K70 RGB Pro to reflect the temp of any given internal component, which is a great way to know how your system is doing at a glance.
iCue is also where you can customize lighting, bind macros, and make other adjustments like enabling the pointless 8,000Hz polling rate that the K70 is capable of. Overall the software is probably the best it's been in years, and it's one of our favorites when it comes to peripheral control software.
Final word
Safe to say, we were disappointed by the Corsair K70 RGB Pro. The pinging defect and underwhelming typing experience are inexcusable at this price point. There are far better keyboards out there for less, like the Mountain Everest 60 and ASUS ROG Strix Scope NX TKL, for example. We are usually pleased with Corsair's gaming peripherals, but the K70 RGB Pro, while nice to look at, feels like a $50 keyboard. Given the huge price, you should look elsewhere for your next typing upgrade.