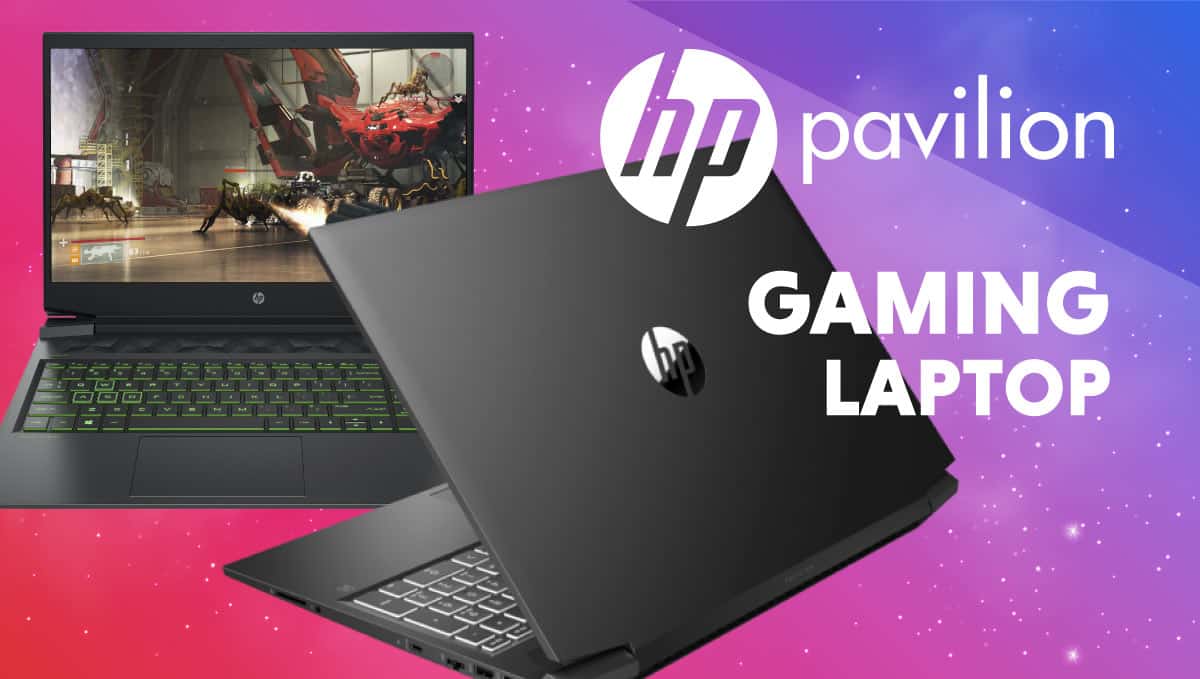 03
Budget pick
A cheap HP Pavilion gaming laptop with dedicated GTX 1050 GPU & Intel/AMD CPU
HP Pavilion Gaming 15 (Intel 15-9300H, Nvidia GTX 1050)
---
Things to Consider before buying an HP Pavilion gaming laptop
Dedicated graphics vs integrated graphics (dGPU vs iGPU)
If you want to play any game beyond the most undemanding of strategy titles, you will need a dedicated graphics card. A Dedicated Graphics Processing Unit (dGPU for short) is essentially a completely separate component on your laptop, designed solely for graphical rendering (and other similar processes). This is in contrast to an integrated GPU (iGPU) which is a subcomponent attached to your processor / CPU, that does the same processes but has (in almost all cases) substantially less processing/rendering power. Most of the HP Pavilion laptop selections on this page will come with a dGPU, though the very cheapest options may only have an iGPU, and their gaming performance will suffer as a consequence. We'll discuss this in each review on this list.
Refresh rate of HP Pavilion laptops
The refresh rate of a laptop's display is arguably the most important thing you want to look for after the GPU and CPU if you're interested in playing any kind of first-person shooter, particularly fast-paced online competitive shooters. The maximum refresh rate of a screen essentially caps the effective FPS that the screen can show, meaning even if you have core components powerful enough to run the game above this, you won't enjoy the benefit. The base standard screen refresh rate these days is 60Hz (if you don't see a refresh rate explicitly stated, you can usually assume it's 60Hz). Typically we'd suggest aiming for 100Hz or above when shopping for a gaming laptop, but the majority of HP Pavilion laptops on this screen have 60Hz screens – these are fine for playing strategy games or 3rd person adventure titles on a budget (60Hz was the cap on the PS4 and XBox One after all), but for competitive online shooters, you'll likely want to look for better.
Are HP Pavilion gaming laptops worth paying full price for?
The short answer to this is no: the HP store lists multiple Pavilion models, and we'd say that none of them are worth paying the stated full price for. Fortunately there are frequent sales on throughout the year on the HP store, with some discounts going as high as 50% off, so we'd keep checking back regularly until a discount is listed. Some good bargains can be found on the older models with dedicated graphics cards, for those looking for a cheaper gaming laptop experience.
---
Best HP Pavilion gaming laptop models 2022: a closer look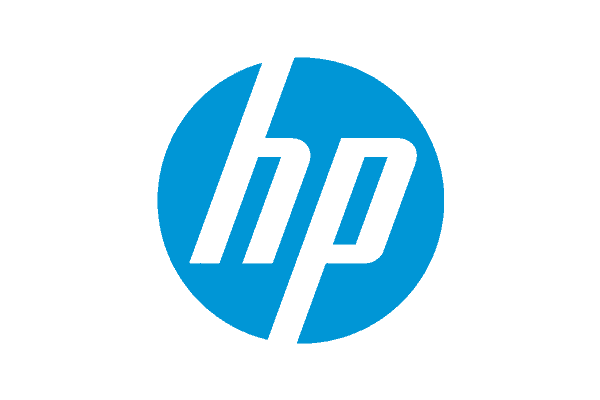 HP Pavilion 16-a0097nr (1660 Ti, i5-10300H, 144Hz)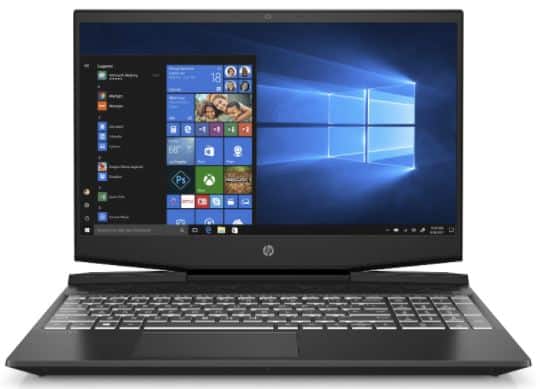 Nvidia GeForce GTX 1660 Ti
Pros



144Hz refresh rate




GTX 1660 Ti GPU




good color replication




good peak brightness and contrast ratio




1080p webcam




16-inch display
Cons



poor build quality




not great value at full price




hard to find
The top pick for best HP Pavilion gaming laptop, by some distance, is this HP Pavilion 16-a0097nr, which has easily the best graphics card and best display of any pick on this list. The main issue with it is finding someone who is selling one, as the model has been discontinued from production by HP, and supplies from other retailers are scarce (though you may have better luck trying to find a cheaper refurbished option).
Looking at the screen, the 16-a0097nr not only comes with a 16-inch display, but it has by far the best refresh rate of any selection on this list at a juicy 144Hz. With a real, average grey-to-grey response time of around 8ms, which is very respectable for a budget laptop, you can definitely enjoy competitive online shooters without being at much of a disadvantage, as long as you don't mind turning the settings down. Color replication on the display is also surprisingly good for the price, as is the peak brightness and contrast ratio.
Although the dedicated Nvidia GTX 1660 Ti laptop GPU is several generations old now, the venerable graphics card actually competes with some of the newer RTX 3050 laptop GPUs in most titles, and you can expect it to perform roughly equivalent to a weaker Nvidia RTX 2060 laptop. It's definitely the most powerful graphical option available here by some measure, and the Intel Core i5-10300H CPU it's paired with does alright for an older processor too.
As with all HP Pavilion laptops, the build quality on this machine isn't great – expect a fairly plasticy feel overall. Speakers are similarly of a poor, entry-level standard, and the keyboard and touchpad are nothing special. Battery life is decent, though nothing to write home about, but the battery recharge time is particularly good, being able to recharge up to 50% of its battery life in only 30 minutes.
Assuming you manage to find a unit of this laptop for sale, the main thing you want to be wary of is of paying the full MSRP, which we would not recommend. The very most you want to be forking out for is $1,000 but the reality is there are other laptops in the price range which offer better value. If you can get one for a substantial discount below this then go for it.
HP Pavilion Gaming 15 (Nvidia GTX 1650)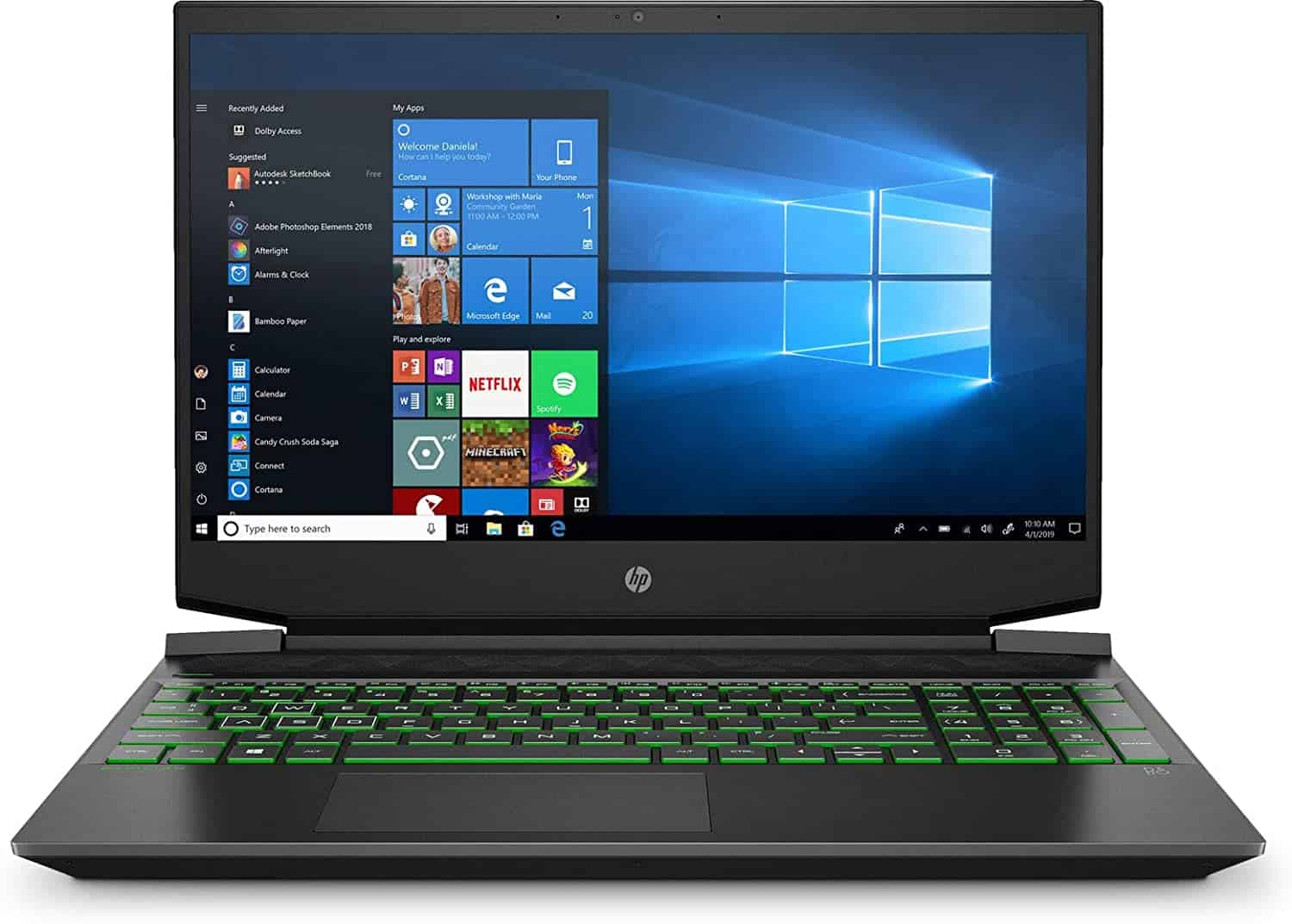 AMD Ryzen 5 4600H / Intel Core i5-11300H
15.6″ Full HD (1920 x 1080) IPS
Pros



strong multi-core performance from AMD Ryzen 5 4600H




good battery life




decent contrast ratio




often available heavily discounted
Cons



only 60Hz display




narrow color gamut & low peak brightness




only 8GB RAM & 256GB SSD




not great value at full price
This particular HP Pavilion Gaming 15 laptop with Nvidia GTX 1650 dedicated GPU, can be outfitted with either an AMD Ryzen 5 4600H CPU or Intel Intel Core i5-11300H processor. On balance, we'd recommend the AMD CPU option if both are available, for the better battery life and multi-core performance, but comparable single-core performance for games. You can expect to get around 7 hours of general use out of the AMD version (i.e. not gaming), which is above average, with about 4-5 from the Intel model.
As with most picks on this page, your effective FPS will be capped to 60 by the 60Hz display, which means it's not an ideal pick for online multiplayer shooters, but for single-player RPGs or strategy titles it does the job. The peak brightness and the color gamut of the screen aren't great, but it does have a fairly decent contrast ratio.
The laptop is about the size and weight you'd expect and comes with the usual limited array of ports you get at this price point. We'd strongly recommend upgrading the 256GB SSD and 8GB of RAM you get which comes with the laptop as standard to 512GB and 16GB respectively, as both will get used up quickly in most present-day scenarios.
Probably the biggest advantage of this laptop is the frequent discounts you often see for it. We've seen the Intel versions reduced to less than £550 on the UK HP site (about 50% off the MSRP), which makes it a very enticing entry-level machine, despite it's drawbacks. Again though we wouldn't recommend picking one up at full price.
HP Pavilion Gaming 15 (Intel 15-9300H, Nvidia GTX 1050)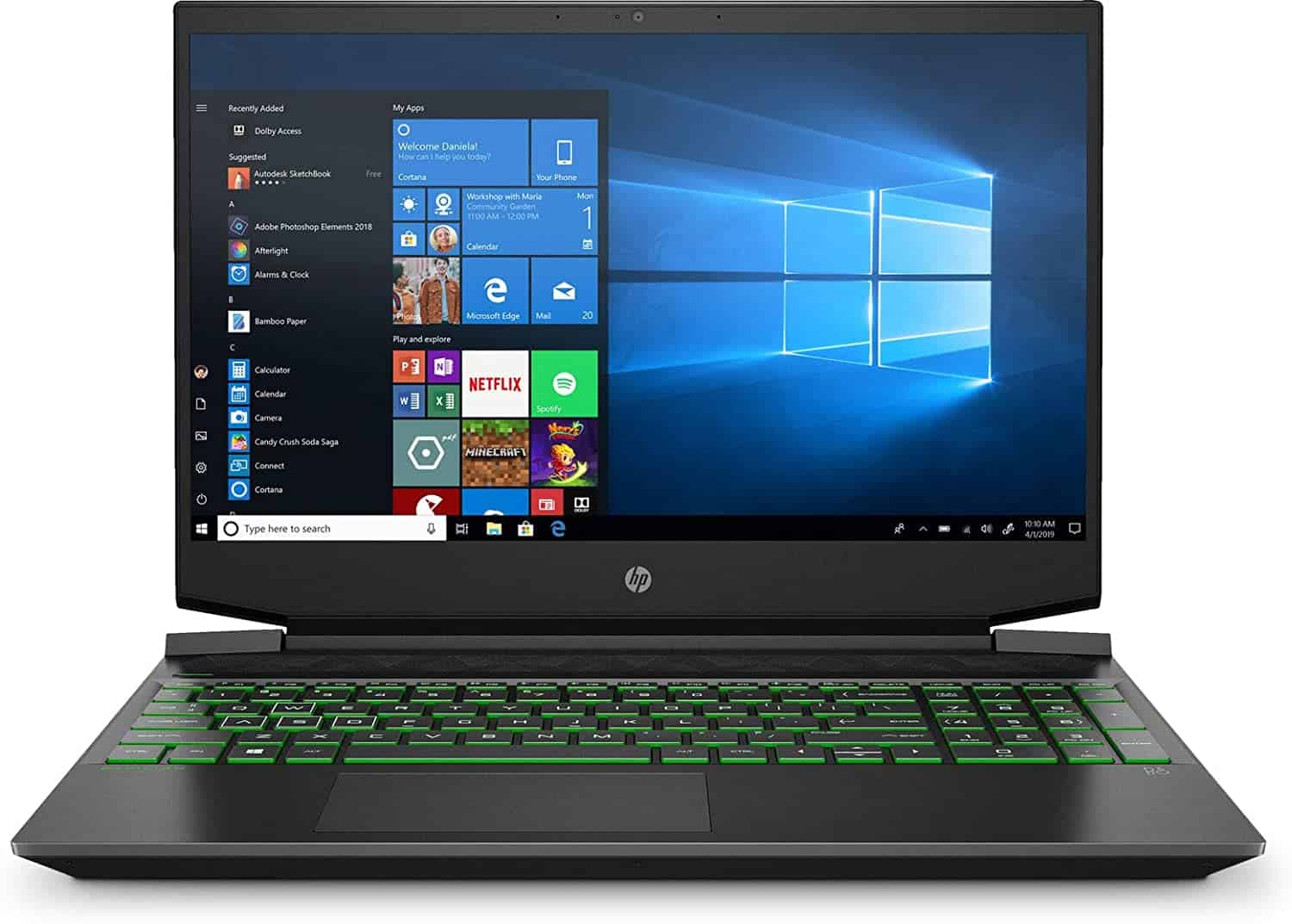 NVIDIA GeForce GTX 1050 3GB GDDR5
15.6″ Full HD (1920 x 1080) IPS Widescreen LED-backlit Display
Pros



dedicated GPU for a cheap price




respectable CPU for the price
Cons



only 60Hz display




narrow color gamut & low peak brightness
The next notch down on the performance list is the HP Pavilion Gaming 15 with Nvidia GTX 1050, a truly venerable graphics card, but still better than the onboard/integrated GPU options that many others in this price range come with. CPU options come in either Intel or AMD flavors – you can opt for the AMD Ryzen 5 3550H Quad-core processor or the Intel Core i5-9300H, both of which offer more or less the same performance.
Speaking of performance, don't get your hopes up with this machine – you'll be able to play older, less demanding titles on the lower settings, but not much more than that. The 60Hz 15.6" 1080p screen is basic, with fairy poor color gamut and peak brightness, though you won't get much better for this price. Once again you'll probably want to upgrade your RAM and SSD from the meager (though fairly typical in this price range) 8GB DDR4 RAM and 256GB SSD.
Like the other HP pavilions, this laptop is hardly a looker, but the keyboard of the laptop is backlit and the overall design is pretty understated, making it suitable for a dual-use office laptop as well.
HP Pavilion 15 (Ryzen 5 4500U)
15.6″ Full HD (1920 x 1080) IPS
Pros



cheap




lightweight




512GB SSD
Cons



only integrated graphics (iGPU)




only 60Hz display




narrow color gamut & low peak brightness
We hesitate to recommend this laptop for gaming as it's only packing integrated Radeon Vega 8 graphics as part of the CPU, rather than a separate dedicated GPU. This means it's only really able to play the most non-demanding of games (older strategy titles, singleplayer games and the like). You'll notice the word 'gaming' doesn't feature in the name of this HP Pavilion 15 laptop as a result. However, if you're after something on the cheapest end of the scale then it could be the pick for you. 
The AMD Ryzen 5 4500U processor is a decent budget CPU, and you do get 512GB of SSD space to go with it, which is good value at this price point. Again the 60Hz display is more or less what you'd expect, with a poor max brightness and not so great color gamut, but no worse than the other 60Hz selections on this page. Again the 60Hz display is more or less what you'd expect, with a poor max brightness and not so great color gamut, but no worse than the other 60Hz selections on this page.
Still, we'd recommend having a look at the other selections available on our best gaming laptop under 500 USD and best gaming laptop under 600 USD pages to make sure there aren't any better options, or just consider saving a bit more and going for on of the pricier options on this page (whch may be reduced to a similar price anyway).
---
HP Pavilion gaming laptop Frequently Asked Questions
Is an HP Pavilion laptop a good laptop?
Ultimately any HP Pavilion laptop you buy, whatever you're using it for, will be a cheaper / more budget-friendly option, that sacrifices build quality and other features for value. HP Pavilion gaming laptops are only suitable for playing older and/or less demanding games, or more demanding games but on the lowest settings. For general use laptops though, HP Pavilion models can be a decent affordable option.
Can the HP Pavilion 15 gaming laptop run GTA V?
Any HP Pavilion 15 gaming laptop with dedicated graphics card should be able to meet the minimum system requirements of GTA V, and many will also hit the recommended system requirements no problem. However, all this means in reality is that you'll be able to play GTA V on the lower settings with half-decent FPS performance at best (official system requirements tend to undershoot what you'll need, and GTA V is a fairly poorly optimized game on PC). The most powerful HP Pavilion gaming laptop with Nvidia GTX 1660 Ti will run GTA V relatively well, but if you want the best experience possible we'd suggest looking at our best gaming laptop under $1,000 or $1,500 pages, especially if you intend to run graphical mods.
---
Final Word
This has been our guide to the best HP Pavilion gaming laptop models in 2022. We hope, even if you haven't found an option you're happy with, you at least feel better informed about what's currently available on the market. Do be sure to check out our HP gaming laptop buyer's guide and other best gaming laptop guides organised by both price and brand in the mega menu at the top of the screen.