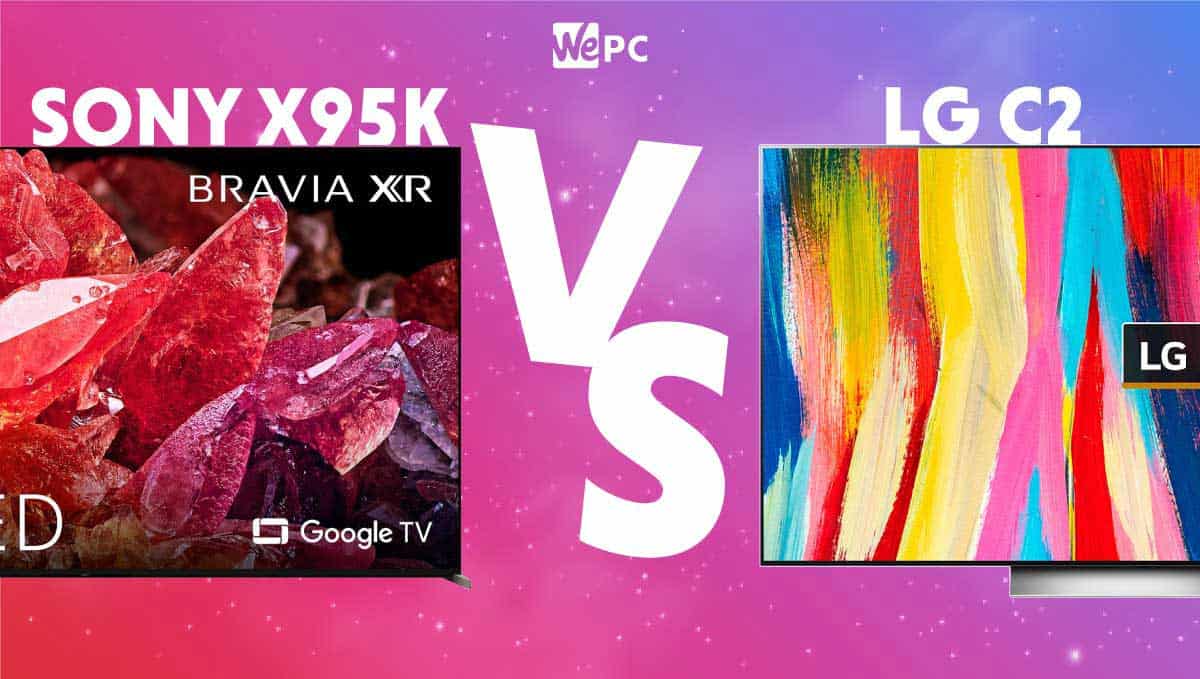 Last Updated:

Mini-LED and OLED TVs have been around for several years now, with leading manufacturers offering up a plethora of options for both technologies. And while each of them offers a unique set of features and benefits, we still get asked; Mini-LED vs OLED, which is better?
Two of the latest high-performance TVs to hit shelves are the Sony X95K and LG C2 – and that's right, one comes with Mini-LED and the other comes with OLED (you can probably guess which one is which).
It's come as no surprise that LG's mid-tier C2 is one of the best OLED TVs in 2022, but how does it compare to one of the best Mini-LED TVs – the Sony X95K? We're here to answer all the most pressing questions on two of the best TVs in 2022, comparing each for picture quality, color accuracy, viewing angles, features, and overall value for money.
Sony X95K vs LG C2: Specifications
| Specification | Sony X95K | LG C2 |
| --- | --- | --- |
| Size | 64.5″ | 64.5″ |
| Panel Type | Mini-LED LCD | OLED |
| Aspect Ratio | 16:9 | 16:9 |
| Display Orientation | Landscape | Landscape |
| Resolution | 3840 x 2160 | 3840 x 2160 |
| Lighting System | Mini-LED Backlight | Organic light-emitting diode |
| HDR Compatibility | HDR10, Dolby Vision, Hybrid Log Gamma | HDR10, Dolby Vision, Hybrid Log Gamma |
| Response Time | Not Specified | < 1 ms |
| Refresh Rate | 120 Hz | 120 Hz |
| Variable Refresh Technology | Variable Refresh Rate (VRR) | FreeSync Premium, G-Sync, Variable Refresh Rate (VRR) |
| Auto Low Latency Mode (ALLM) | Yes | Yes |
| Bit Depth / Color Support | 10-Bit (1.07 Billion Colors) | 10-Bit (1.07 Billion Colors) |
We've chosen the two 65″ variants to go side by side and, as you can see from the specifications above, there aren't many differences to be found.
At first glance, both TVs feature 4K UHD panels that feature 16:9 aspect ratios, 120Hz refresh rates, VRR support, and Auto Low Latency Mode (a feature that automatically detects when a console is being used and enables the TV's game mode).
Having said that, there are some fairly obvious differences that will add up when it comes to the performance these TV's produce.
Firstly, and most obvious, is the panel type used in both these models. The Sony X95K uses a high-end Mini-LED LCD panel whereas the LG C2 uses the brand's OLED (Evo OLED in this case) panel.
Secondly, there's a clear difference when it comes to the response time of both TVs – with the LG C2 offering a near-instantaneous pixel response that is hard to match.
Sony X95K vs LG C2 gaming performance
With both PlayStation 5 and Xbox Series X consoles now supporting 4K gaming @120Hz refresh rate, speed and response has now become much more of a priority. Fortunately, both of these panels offer a fluid gaming experience, meaning, regardless of which TV you choose, you'll be getting one of the best TVs for gaming.
As you might remember, the LG C1 was renowned for being one of the best TVs in 2021 – equipped with a 120Hz refresh rate, near-instantaneous response time, and a tonne of gaming features that allow users to fine-tune the performance to their exact needs. As you can imagine, improving on an already impressive gaming TV isn't easy – however, LG has made some clever tweaks that add up to a great gaming experience.
The LG C2 provides a similar 120Hz <1ms panel that we saw in its predecessor, equipped with VRR support for both FreeSync and G-Sync systems. With a number of HDMI 2.1 ports, the C2 is the perfect choice for console gamers that require the additional bandwidth [email protected] gameplay demands.
Additionally, a new Game Optimizer menu has been used here with features such as AI game sound, Fine Tune Dark areas, and reduced blur light all available. Choose between a number of game presets that range from FPS to RTS and everything in between.
The Sony X95K features a similar 4K 120Hz panel – albeit not OLED – that delivers excellent motion handling thanks to VRR (variable refresh rate) support. The X95K also features XR motion clarity which effectively increases the speed at which the pixels respond, reducing the annoying screen artifacts that may occur. Like the C2, a Game mode is available within the X95K's picture settings, however, it isn't nearly as comprehensive as the former.
Sony X95K vs LG C2: price & sizes
It took a while for the official C2 and G2 prices to be unveiled, with the first rumours being leaked from John Lewis back in February. However, since then, both the Sony X95K and LG C2 models have launched globally, with prices varying quite a bit.
The Sony X95K currently offers three unique sizes (65-inch, 75-inch, and 85-inch), whereas the LG C2 comes in a wide range of sizes that range from the world's first 42-inch OLED TV up to 83 inches, respectively.
That in mind, below are the side by side prices of each model:
| TV | Price |
| --- | --- |
| Sony X95K 65″ | $2,799 |
| Sony X95K 75″ | $3,799 |
| Sony X95K 85″ | $5,499 |
| LG C2 42″ | $1,399 |
| LG C2 48″ | $1,499 |
| LG C2 55″ | $1,799 |
| LG C2 65″ | $2,499 |
| LG C2 77″ | $3,499 |
| LG C2 83″ | $5,499 |
Size variations aside, comparing similar X95K to LG C2 models results in some interesting figures. While many may think the superior image quality of OLED would warrant a steeper price tag, that doesn't seem to be the case.
As you can see, the Sony X95K 65-inch is around $300 more expensive than the LG C2 65-inch. Similarly, the 75″ Sony is another $300 more expensive than the LG C2 77-inch. Weirdly, pricing levels out when we get to the 85-inch Sony – with the Mini-LED screen actually offering better value per inch.
Sony X95K vs LG C2: picture quality & peak brightness
Picture quality and peak brightness are both hugely important factors when it comes to purchasing a new TV – and two areas where the Sony X95K and LG C2 vary quite dramatically.
One of the main reasons why people choose newer OLED TVs over more conventional LED alternatives is due to the stunning visual performance they provide. As you may be aware, the OLED panel technology that goes into every LG OLED TV has the ability to produce perfect blacks, infinite contrast, and stunning image quality overall. This allows the LG C2 to display perfect blacks directly next to the panel's brightest bright – on a pixel level. As you can imagine, with this level of contrast and an extremely wide color gamut, the LG C2 performs to an incredibly high standard when it comes to HDR (High Dynamic Range) content. That said, one of the major flaws of OLED panel technology is its below-average peak luminance – a factor that doesn't affect mini-LED TVs.
On the plus side, the new LG C2 OLED comes equipped with a high-performance Evo OLED panel that delivers a far brighter visual experience when compared to more generic OLED alternatives. LG's latest Evo OLED panel used to be restricted to the G1 (Gallery) series, however, in an attempt to produce better overall picture quality, LG decided to equip the LG C2 (55-inch variants and above) with it.
The Mini-LED Sony X95K, by contrast, doesn't fall victim to the same brightness issues as the LG C2. For a start, the Sony X95K delivers a much higher peak brightness thanks to the large backlight it utilizes. Better yet, as the X95K also makes use of mini-LED backlight technology, it now features a far greater number of local dimming zones – enabling it to produce a much more realistic and accurate HDR experience.
Sony X95K vs LG C2: Design & materials
The C2 (and G2 for that matter) looks fairly similar to its predecessor – both featuring a slender profile characterized by slim bezels on all four sides. The overall dimensions of the C2 also haven't changed this time around, still delivering that thin, premium-feeling design.
LG has retained the large, center-sitting stand for the LG C2 – designed in metal and finished in a brushed aluminum style. While this isn't the smallest stand we've ever seen, it's by no means large enough to cause any issues with placement. That said, it does protrude out of the front of the TV slightly – but that's essential for its overall stability.
The rear of the LG C2 is relatively simplistic with few features to discuss. Like always, all inputs can be found at the rear of the panel alongside the VESA mounting holes – for those who wish to wall-mount this TV. A two-tone style is used for the rear, however, with TV's often pushed tight against a wall, there's no real reason for this styling.
Aesthetics aside, however, the C2 does feature new materials that are said to alleviate some of the issues that occur when unboxing or wall-mounting it. The new-feel C2 will offer a lighter design with the same premium feeling as before, making unboxing a much simpler task. That being said, we reviewed the LG C2 a little while ago and can safely say the unboxing process is very much still a two-person job.
Looking at the Sony X95K and there you can definitely tell Sony took inspiration from the X95J series. It features a Titanium silver color theme and slender "Seamless Edge" bezels which are similar to that of the C2. Despite offering a thin profile, it struggles to compete with the OLED TV – mainly due to the backlight it utilizes.
Two feet are used for the Sony X95K which can be positioned in three orientations depending on the surface you plan to place the TV. You can utilize a wider footprint for large cabinets or a thinner orientation for something more slender. Additionally, users do have a 'soundbar' option which allows you to position the feet away from the bar itself.
Like the C2, the X95K also offers up wall-mounting functionality via its 300mm x 300mm mounting holes.
Sony X95K vs LG C2: features
Both X95K and C2 are feature-rich TVs that allow you to tweak the visual experience to your needs, but how do they compare side by side?
Like the LG C1, the C2 comes with a tonne of features that makes the overall user experience incredibly intuitive. But first, let's discuss that new Alpha a9 Gen 5 processor. The new engine in the C2 allows for far better object enhancements and a new dynamic tone mapping feature that uses an algorithm to analyze an image and alter its shadow levels, midtown levels, and highlights – based on a particular scene or contrast ratio.
Additionally, LG is also paying particular attention to the risk of burn-in for its new C2, utilizing a number of new features to help reduce the risk. A screen saver mode now automatically enables when the TV detects a static image on the screen, cycling numerous artworks or a gallery of your choice.
The LG C2 OLED is also smart compatible and equipped with LG's WebOS2022 platform. This allows users to download a tonne of apps directly onto their TV set, including all the regular streaming services and tools. As we mentioned earlier, the C2 comes with a brand new Game Optimizer Mode which enables users to tailor the visual experience to their exact requirements. A tonne of picture presets are available with this TV, including the ever-popular Filmmaker mode which enables you to experience TV and film as the director intended. It also disabled the annoying soap opera effect (motion interpolation) feature.
Like the C2, the X95K also comes with a tonne of features designed to improve overall picture quality, color accuracy, and responsiveness. The Sony X95K is also fully smart compatible and comes to the table boasting the Google TV smart platform – supportive of Chromecast too.
An anti-glare system has also been introduced in the X95K too, which helps to increase the quality of daytime viewing and general viewing angles. Color enhancement technology includes Live Color technology, XR smoothing, and XR TRILUMINOS PRO – all designed to adjust the color of the source image to meet your requirements. The new XR processor is also fantastic at 4K upscaling and improving general image clarity – working side-by-side with features such as XR motion clarity and ALLM.
Sony X95K vs LG C2: which should you buy?
So, there you have it, our comprehensive breakdown of two of the best TVs in 2022 – the Sony X95K vs LG C2. But, which one should you buy?
Well, that's a fairly easy one to answer. If you're looking for superb OLED image quality, perfect blacks, and an extremely wide color gamut, the LG C2 should be high on your list of considerations. Not only does it perform highly in everyday viewing, but it also excels in gaming scenarios thanks to a tonne of game features.
Alternatively, if you prioritize peak brightness and HDR performance, the Sony X95K could be the one for you. While it might be a little more expensive than the C2, it excels when it comes to daytime viewing and movie consumption.
Regardless of which TV you buy, however, just know that you'll be getting a stunning TV in either of these new models.