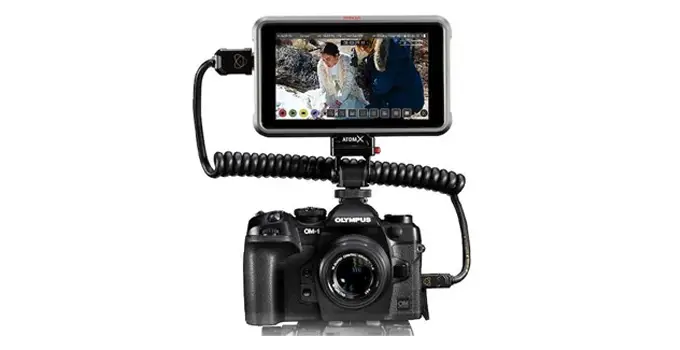 Atomos is expanding its camera support again, this time with the Olympus OM-1. The camera will be able to capture in 4K DCI at up to 60 frames per second (FPS) and when attached to a NINJA monitor/recorder, the file will be recorded in 12-bit ProRes RAW.
The OM SYSTEM OM-1 is a compelling MFT camera and a great addition to an already amazing line-up from our partners at OM Digital Solutions," stated ATOMOS CEO Trevor Elbourne.
" The ability to provide RAW out over HDMI to the Atomos Ninja V/V+ means that even more filmmakers can embrace the new creative opportunities presented by ProRes RAW."
Announced in February, the micro four-thirds Olympus OM-1 mirrorless camera utilizes a backside-illuminated stacked MOS sensor and TruePic X Image processor to capture up to 120 frames per second 4K video in H.265 at 4:2:0 10-bit and hyper log gamma (HLG) internally.
The camera also supports 8-bit H.264 and multi-frame rate recording. Additionally, with support from the Ninja V/V+, the unit will be able to output 12-bit ProRes RAW or use the OM-Log profile or HLG.
With five-axis image stabilization, the OM-1 is capable of compensating for up to 7 stops of camera shake, to keep the user's footage rock steady while the camera is on the move.
Users can squeeze out an additional stop from select IS-enabled lenses. The OM-1 also has dual UHS-II SD card slots to capture up to 30 minutes of recording time, depending on card size.
Through the Atomos Ninja V or V+, users can select HLG or PQ/HDR10 for color depth, and with its compact 5" design, the monitor-recorder and MFT camera combination makes a portable platform for capturing video in run and gun situations. Especially when shooting handheld or mounted on a gimbal.
OM-1 Users who wish to take advantage of the Ninja V's expanded capabilities will need to update their firmware to v 1.1 to make the connection.
The link to the firmware is here. The Ninja V/V+ will also need a refresh with the latest AtomOS 10.76 firmware. That's available here (NINJA V) and here (NINJA V+).
[source: Atomos]
Order Links:
Olympus System OM1 Mirrorless Camera (B&H)
Atomos Ninja V 5″ 4K HDMI Recording Monitor (B&H)
Atomos Ninja V+ 5″ 4K HDMI Recording Monitor (B&H)