Last Updated:

Graphics cards have been hard to come by for the past few years and we never thought we'd see prices go down. But now you can buy get some in Newegg's GPU Memorial Day deals. They are part of a wider range of sales so you can find your next best graphics card there. Whilst also finding them below MSRP, something that was hard to find as they have been so expensive.
You can find price slashing across both AMD and Nvidia cards, and being able to buy them for lower than expected. There are some cards on offer that may still be above the original MSRP. Whilst the sellers are cutting prices close to it to try to move stock as the market readjusts.
*Prices are subject to change
Custom URL
ASRock Radeon RX 6900 XT PHANTOM GAMING D Graphics Card
10% off
Custom URL
ASRock Radeon RX 6700 XT Challenger D Gaming Graphics Card
Save $30
Custom URL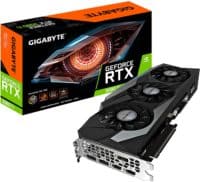 GIGABYTE GeForce RTX 3080 GAMING OC
25% off
Custom URL
Save $200
Specifications
If you want to learn more about the GPU specifications on offer we take you through them.
ASRock RX 6900 XT Phantom Gaming D
GPU: Navi 21 XTX
Process: TSMC 7nm
VRAM: 16GB GDDR6, 256-bit bus
Configuration: 5120 Shaders, 320 TMUs, 128 ROPs, 80 CUs, 80 RT cores
Frequency: 1925 MHz Base, 2105 MHz Game, 2340 MHz Boost
GPU: Navi 22 XT
Process: TSMC 7nm
VRAM: 12GB GDDR6, 192-bit
Configuration: 2560 Shaders, 160 TMUs, 64 ROPs, 40 CUs, 40 RT cores
Frequency: 2321 MHz Base, 2424 MHz Game, 2581 MHz Boost
GIGABYTE RTX 3080 GAMING OC
GPU: GA102-220-A1
Process: Samsung 8nm
VRAM: 12GB GDDR6X, 384-bit
Configuration: 8960 Shaders, 280 TMUs, 96 ROPs, 70 SMs, 280 Tensors, 70 RT cores
Frequency: 1260 MHz Base, 1755 MHz Boost
Yeston RX 6800 XT Sakura Hitomi
GPU: Navi 21 XT
Process: TSMC 7nm
VRAM: 16GB GDDR6, 256-bit
Configuration: 4608 Shaders, 288 TMUs, 128 ROPs, 72 CUs, 72 RT cores
Frequency: 1875 MHz Base, 2065 MHz Game, 2310 MHz Boost