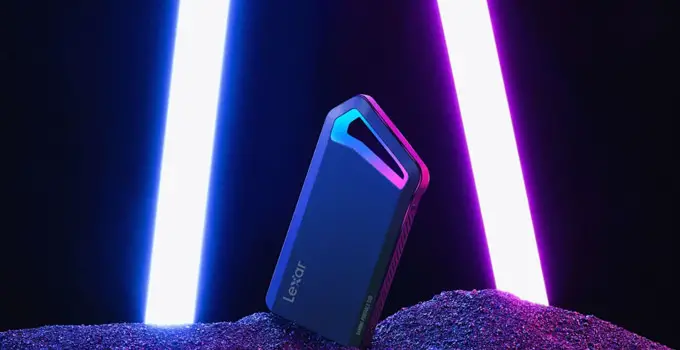 Gamers love the color. Almost as much as performance. Just look at the most recent desktop computers and they are awash in RGB lighting inside and out. So when Lexar launched an ultra-fast SSD for gamers, they just had to add a splash of RGB LEDs. But the real important question is, can Lexar's new SL660 Blaze SSD provide both?
The chief feature of the SL660 Blaze Gaming Portable SSD is its design. Made out of a sandblasted aluminum body with a looped RGB LED light, the Blaze looks as good as it does fast. Lexar says that the LEDs "create a lively atmosphere making your gameplay or workstation more dynamic by adding a touch of color to your setup."
Since Lexar has been putting out some screamingly fast data drives and cards of late, they can be allowed a flight of fancy in the design department once in a while, especially if the device puts up the kind of numbers that they are claiming.
In fact, the only real strike against the SL660 Blaze is the color scheme can't be adjusted, and as such, could end up clashing with a computer lighting design, rather than it.
But it's really the performance that matters, and according to Lexar, the SL660 Blaze Gaming Portable SSD enjoys write times of over 1900MBs, and 2000 MB/s for reading times.
This is largely thanks to being supported by the USB 3.2 Gen 2×2 standard that supports speeds of up to 20 Gb/s. Not just for gamers though, the SL660 Blaze could be a good tool for content creators who seek a fast device to record at 8K from an external SSD-compatible camera like the Blackmagic URSA Pro.
The drive also has what Lexar says is advanced security software with 256-bit AES encryption to guard against corruption, loss, and deletion. Using the software, users can encrypt the entire drive or create a secure data enclave that is password protected. The data locker will also completely and securely erase any data that is deleted, so it cannot be recovered.
The SL660 Blaze also features a USB Type-C (USB-C) port with a USB Type-C to Type-C cable and a USB Type-C to standard USB Type-A cable for connection options and a nifty slotted stand.
Lexar also says that the Blaze has been extensively tested with over 1,100 digital devices, to ensure performance, quality, compatibility, and reliability. So chances are, it'll work just fine with whatever device it gets connected to.
As for the retail price? Well, it starts at $120 for a 512GB model and $200 for a 1TB version. Not too bad considering how fast it's rated.
[source: Lexar]
Order Links: