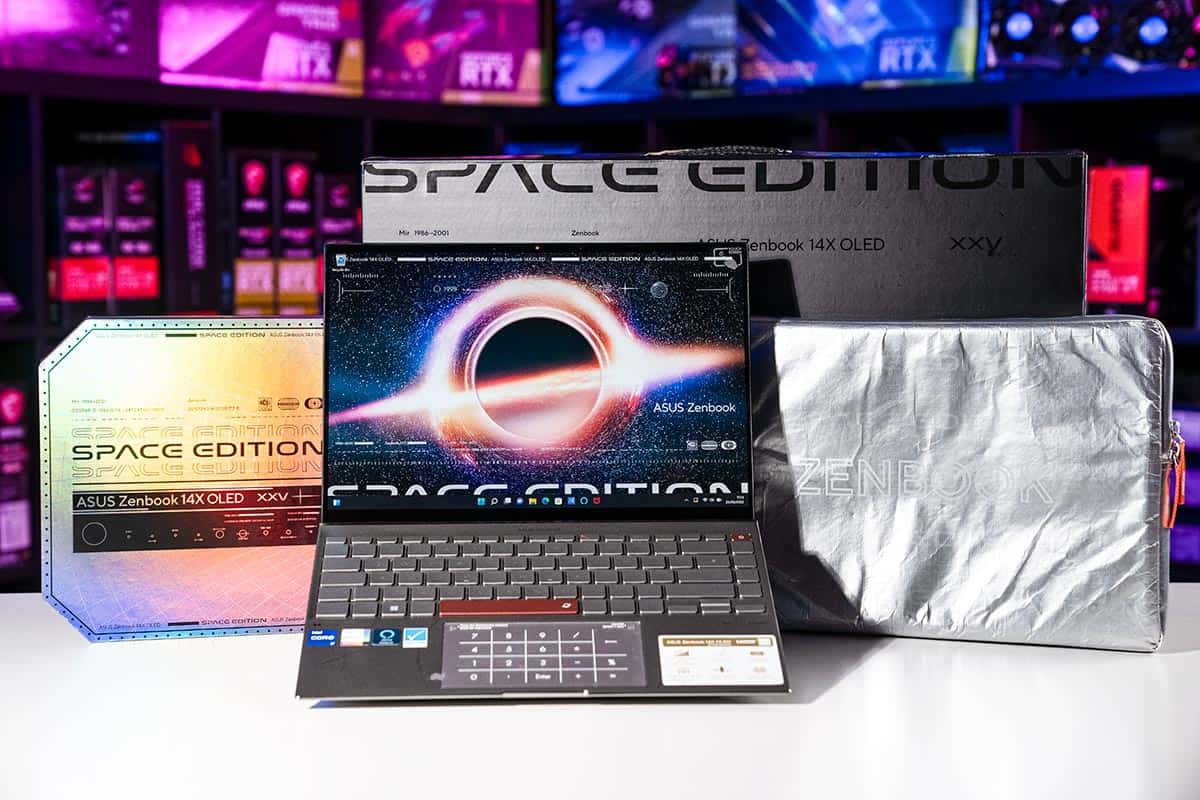 Last Updated:

The ASUS Zenbook 14X OLED Space Edition is a uniquely designed laptop from one of the biggest brands in the business that commemorates the 25th anniversary of the first ASUS laptop sent into space. Everything about the design of the laptop to the packaging it comes with is an homage to humanity's history of space exploration. It's a beautiful machine, but also a pricey one, the question is, is it worth your money? Read on to find out.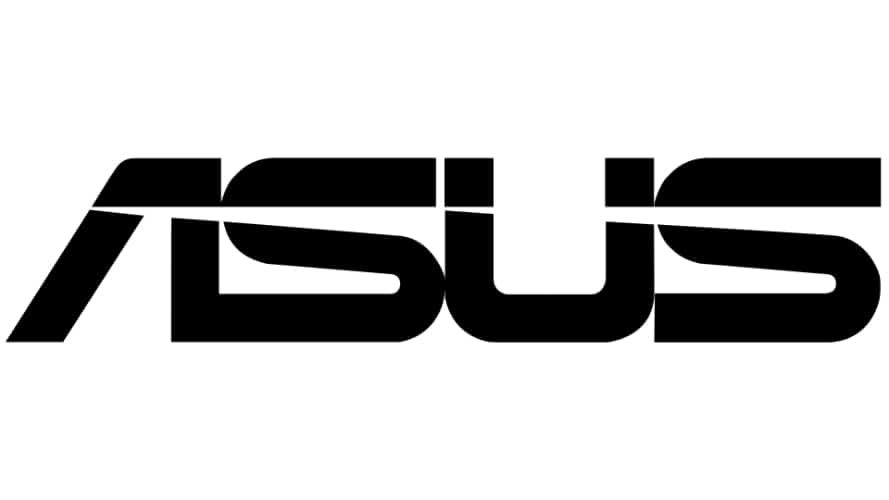 ASUS Zenbook 14x OLED Space Edition
CPU
Intel Core i5-12500H / i7-12700H / i9-12900H
RAM
8GB / 16GB / 32GB LPDDR5
Storage
512GB / 1TB M.2 PCIe 4.0 SSD
Max Refresh Rate
60Hz / 90Hz
Specifications & upgradability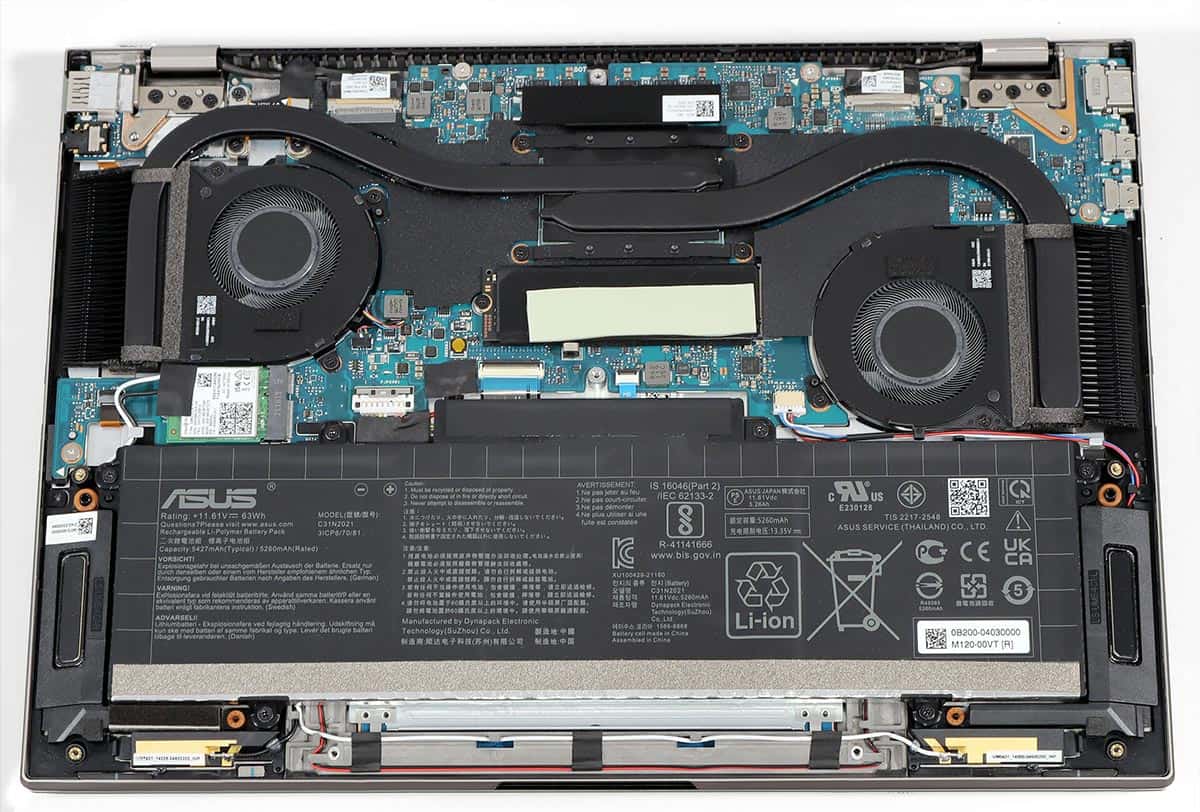 Opening up the back of this laptop is a real pain and we had quite a few issues doing so. Besides removing the Torx screws (including the two under the feet) you have to prise off the panel as it's held on by several plastic clips. Doing this without breaking something is not easy, so we'd avoid doing it yourself unless you know what you're doing and actually do need to upgrade the machine.
There is one single M.2 2280 slot near the CPU which houses the SSD that can be upgraded at a later date, should you wish to, as can the Wi-Fi 6E chip.
The LPDDR5 4800MHz dual-channel RAM is available in 8GB / 16GB (our configuration) / 32GB configurations at the point of purchase, but non-upgradable once you've ordered it as the RAM is soldered to the board.
There are three Intel 12th Gen laptop CPU options: the Intel Core i5-12500H, i7-12700H (our configuration), and i9-12900H, giving you lots of pricing options depending on your personal needs. As to be expected with a slimline non-gaming laptop, there is no dedicated graphics card, just the Intel Iris Xe integrated graphics (iGPU) which come with the CPU, though this does not mean some light gaming isn't possible on this machine (as we show below).
The mini-screen on the rear of the laptop is a 3.5" 256 x 64 monochrome P-OLED that comes with all models of this machine. Read the screen section below for more information on the different spec options for the main display.
Intel Core i5-12500H / i7-12700H / i9-12900H
512GB / 1TB M.2 PCIe 4.0 SSD
2880 x 1800 / 3840 x 2400
1x USB 3.2 Gen 2 Type-A, 2x USB-C / Thunderbolt 4 (power delivery), 1x HDMI 2.0b 1x 3.5mm Combo Audio Jack, Micro SD card reader
Pros



unique commemorative design and aesthetic




powerful 12th gen CPU options




good quality keyboard & trackpad




16:10 screen gives more screen for your money




superb color gamut, whitepoint, and panel uniformity




perfect contrast ratio and black point




touchscreen option




good number of I/O ports for a smaller device




90Hz option with very fast response time for light gaming




generally very good build quality




very loud speakers of decent quality




light, thin, and portable
Cons



significantly more expensive due to unique design




lacklustre battery life




not bright enough for outdoor use in very sunny conditions




poor color accuracy




some speaker rattle on the specific unit we had




merely average mic and webcam with no Infra Red
Software
The MyASUS software that the laptop comes with is reasonably easy to navigate and user-friendly (certainly more so than the Armoury Crate app that comes with ASUS gaming laptops). 
Under Customization > Fan Profile you get three to choose between, each which allows the CPU and other internal components to run at different power limits and therefore performance: Performance (35-45W), Standard (25-25W), and Whisper (20W). 
You also get a choice of three Battery Health Charging options to either prioritize the longevity of the battery's lifespan, or increase the charging capacity.
Under Customization > Audio & Visual you get various noise cancelation options, plus options to reduce flickering and screen burn-in on the OLED display. You can also switch the display refresh rate from the standard 90Hz to the lower 60Hz to save battery, and back again.
Under the same section, Splendid allows you to adjust the vividness of your OLED display, to either save battery / reduce Blue light for eye care purposes / make the screen look the best it can when viewing images or watching films. 
Customization > Target Mode dims all non-active windows that are on your screen, enabling you to save battery and prolong the lifespan of your display.
Design aesthetics & RGB
Arguably the biggest draw of this Space Edition Zenbook is the aesthetic design, which evokes the space race in a multitude of ways. It's not just the laptop but the packaging it comes in that successfully manages this, and this was easily the best unboxing experience we've had in a laptop. The large black box has a design on it taken from the Golden Record sent with NASA missions to communicate with any extraterrestrial intelligence. Within this is a smaller, nicer-looking silver box with similar designs that contains the laptop itself. You also get a similar silver box that contains the charging adapter, which doubles as an impromptu laptop stand. You also get a padded laptop cover with a bright silver design with orange accents that evokes the spacesuits and mylar foil used in space missions. Even the manual, terms and conditions documentation comes in a silver padded pouch that evokes ration packaging.
The laptop itself comes with a single option for the color scheme, known as 'Zero-G Titanium', and has a slightly matte texture over the majority of the machine, both of which do a decent job of hiding fingerprint marks or other dirt and grime. Once you take off all the partner branding stickers, it really is a beautiful machine. There are numerous nods to the history of space exploration in hidden details throughout the body of the machine (some in morse code), which we won't spoil for you, but they definitely score highly in the rule of cool and make this quite a unique and special device. The most eye-catching feature is the mini monochrome screen on the reverse of the laptop lid, which can be set within the MyASUS software to show a variety of astral-themed pre-programmed animations, display the time, or a custom message that you can input yourself.
The only lighting on this machine comes from the keyboard backlighting, which doesn't have any RGB controls but has three different brightness levels that can be controlled from the keyboard. Anything but the highest brightness settings (or with the lighting completely switched off) can make the lettering of the keyboard a bit hard to see, and we've seen better under-key lighting than this in terms of its tidiness/how it looks, but it does the job.
Size, build quality & ergonomics
The dimensions of the base ASUS Zenbook 14X OLED Space Edition are as follows:
Height: 1.59cm / 0.63″, Width: 31.12cm / 12.25″, Depth: 22.11cm / 8.70″
Looking at the weight now:
Laptop: 1.4kg / 3.09lb, power brick & cable: 0.4kg / 0.88lb, combined weight 1.8kg / 3.97lb
This Zenbook 14X is a bit heavier than the 2.8lb Zenbook 14s of preceding years, the tradeoff for a taller 16:10 display and more powerful CPU with the necessary cooling, however, the laptop itself is still very thin and easily portable. The larger 100W charger has a bit of chunk to it compared to that of the 14s, and it's a bit tricky to fit it in the same silver space foil laptop case that comes with the device without scratching the surface of the laptop (a bit of an oversight from ASUS) however it's still small enough fit into a bag or larger jacket pocket.
As is common among ASUS laptops the build quality of the 14X Space Edition is generally very good – from the metal chassis itself to the display hinges, keyboard and trackpad, everything looks solid, feels solid and is nice to the touch. The one exception to this was the rattling noise we experienced from the front of the laptop (we discuss this more under the Audio section below) though we've not seen anyone else mention this so hopefully it's limited to this unit.
In a design that we're seeing across most of the Zephyrus and Zenbook line, opening the screen causes the rear of the laptop to lift off the ground by approximately 1cm at full extension as the bottom of the screen essentially props it up. This improves the typing angle slightly and also the airflow for the intakes on the bottom of the laptop. This design has been shown to improve internal cooling and reduce thermal throttling in other machines. 
There are two rubber feet on the rear corners of the laptop but when you open the lid this raises them off the ground, rendering them somewhat useless. The two feet on the front of the laptop were of a harder, non-rubberized plastic, giving them less grip, which seems a curious design choice.
Keyboard & trackpad
The membrane keyboard of the Asus Zenbook 14X OLED Space Edition provides a very nice typing experience overall. I found the sizable keys and spacing kept typos to a minimum, the slightly matte feel of the keys (besides the spacebar which was smooth) gave a nice bit of purchase, and the actuation and responsiveness of the keys felt satisfying. 
The glass trackpad is similarly of a high quality, is nice and large, and the numpad activation for it is fairly intuitive (you simply press the top right corner for 1 second to activate/deactivate). There's also the option to slide along the top of the trackpad to quickly bring up a calculator on screen.
Webcam & inbuilt microphone
The 720p webcam is serviceable but doesn't have the best image quality. The F10 key does however function as a webcam blocker – causing a privacy shutter to physically cover the lens as well as disconnecting it, which is a great feature. There is no Infra Red technology with the webcam, unfortunately (despite this being a feature of the older Zenbook 14s), which means no Windows Hello.
Microphone quality is middling, but can be improved for video-conferencing using various AI Noise-Canceling settings within the onboard software (under Customisation > Audio & Visual) to reduce background noise (though this will sap your battery at a faster rate).
Ports, sockets, and other features
The array of ports and sockets is about as good as you can expect for such a thin and light notebook of this size. You get 1x USB 3.2 Gen 2 Type-A port, and 2x USB-C / Thunderbolt 4 sockets which both support display and power delivery, as well as a HDMI 2.0b socket and 1x 3.5mm audio combo jack. 
Creatives who handle photographs and camera footage will be please to know a Micro SD card reader is also included. The Micro SD card slot is fairly well disguised along the right side of the laptop to look part of the exhaust port design, which is visually pleasing (just make sure you don't accidentally put your SD card into the wrong slot).
Like other 14-inch laptops, the Zenbook 14X lacks an ethernet port, but you do get a Wi-Fi 6E AX211 (6GHz) connection with ASUS WiFi SmartConnect, which gives solid performance, we certainly experienced no issues with it.
There is a fingerprint reader located in the power button on the top-right of the keyboard.
Screen
Display options include a 2.8K (2880 x 1800) touch screen, a non-touch screen of the same resolution, and a 4K touch screen option. All variants are 16:10 OLED displays that come with a reported response time of 0.2ms, though only the 2.8K options have the higher 90Hz refresh rate, with the 4K capped at 60Hz.
If you're interested in doing a bit of light gaming, the 90Hz option is definitely the one we'd pick and touch screen does become more useful on devices of this size, and this is the option were given to test.
From a purely subjective point of view, the display looks fantastic, the thin bezels and extra headroom of the 16:10 screen really maximizing screen real estate when viewing documents and web pages on such a small device, and it was a pleasure to work on.
Asus Zenbook 14X OLED Space Edition color gamut
ASUS claimed that the G14 color gamut of this display covers 100% of the DCI-P3 space, and therefore 100% sRGB by extension. The results of our test fell very slightly short of this but only just.
We recorded 100% sRGB coverage and 98.8% DCI-P3, which for practical application is just as good as 100% really. Adobe RGB coverage was 99.3%. Effectively these results mean means you can use the laptop for colorwork in all three of these color spaces, assuming the accuracy results (below) meet the requirements. For gaming the color replication is more than enough.
Asus Zenbook 14X OLED Space Edition color accuracy out of the box
Prior to calibrating the display, the color accuracy of the 14X OLED out of the box showed an average delta of 4.98, which is not good and well above the 2.5 threshold that marks a respectable level of variance. White point was superb at 6518K, very close to the ideal 6500K result. Gamma was decent at 1.89 (2.2 being the ideal). Black depth was absolutely perfect at 0.0m² – you literally cannot get a better result than this – and the same was true for contrast ratio at infinity:1. In summary, a respectable result for gamma, a perfect result for black point and contrast ratio and near enough for the white point, but a disappointingly poor delta variance.
Asus Zenbook 14X OLED Space Edition color accuracy following calibration
Calibration did little change to the results in any positive way, other than gamma, which was increased to 2.16 (close to the 2.2 ideal). White point moved slightly further away from the ideal to 6525K. Black point and contrast remained the same perfect values that they did pre-calibration, and average delta got every so slightly worse at 5.01. Ultimately it may be worthwhile calibrating for the slight gamma boost, but that's it.
Asus Zenbook 14X OLED Space Edition panel uniformity
We do a panel uniformity test on all laptops we review after their calibration, which tests for both luminance and color accuracy. We start on the centremost point as a reference and then test all the other sections of the screen (25 in total) to see how they compare.
Generally, any average color variation under 1.00 is good and shows up as green in the image below, though the average consumer won't be able to tell much difference below 3.00. Visual editors who work with color however may have a keener eye.
The results we got on the ASUS Zephyrus G14 were great overall, with only the second from top left quadrant showing a maximum variance of 2.03 at 100% brightness (112.35cd/m²).
With a uniformity this good, and almost all the other results being top-notch, it's a real shame that the accuracy isn't up to scratch, as this makes us hesitant in recommending this machine for color-accurate professional use.
Asus Zenbook 14X OLED Space Edition brightness
We finished off our color accuracy testing by running a luminance test. On the unit we tested, we got a peak brightness of 362 cd/m² and a minimum of 3.5 cd/m² which is well below the 500 nits of maximum brightness claimed by ASUS (though this may have been limited to when viewing HDR content, which we did not test). When using the laptop indoors during the daytime we'd recommend matching the brightness to 120 cd/m² which equates to a brightness setting of 61% under the brightness controls for this laptop.
In terms of our subjective experience when testing this laptop, 100% brightness when working outside on a sunny day in Northern England was reasonable to do work on, but disappointing for an OLED screen. Users in sunnier climes may have issues in seeing the screen in much brighter sunlight.
Audio
ASUS are one of the better Windows laptop brands when it comes to speaker quality, with some of their better options approaching audio quality similar to that of the MacBook (the gold standard in this area). The Asus ZenBook 14X OLED Space Edition has Harman Kardon guaranteed sound but still isn't quite up there with the best we've heard. 
In terms of volume it's very impressive, even with the positioning of the speakers beneath the laptop: 50% volume is pretty loud for most uses and if you crank things to the max you can have yourself a party. Bass replication is better than average by laptop standards, though the lower sub-bass frequencies are still fairly absent. General crispness and quality of audio is good, even on the higher volumes.
Unfortunately, on the model we have at least, there was a loud, unpleasant fuzzy and rattley vibration noise that occurred at the front of the laptop on certain high and low frequencies (including the audio alerts that accompanied popups of the MyASUS software). Holding the front, lower chassis of the laptop together cut out about 80% of this noise, definitely indicating some sort of loose paneling / internal component as the cause. It's unclear if this is just an issue with our specific unit or a more broad one (we haven't noticed any other reviewers mentioning it yet) but it was pretty irritating and we'd consider getting a replacement if this issue was present in a machine we bought.
Battery life
There are different options within the MyASUS software to extend the battery life of the Zenbook 14X OLED Space Edition, which we've mentioned above in the Software section. These include reducing the display refresh rate to 60HZ, enabling Target Mode, setting the Fan profile to Whisper, and reducing the vibrancy of the OKED display under Splendid.
With all these settings turned on to enable maximum power efficiency, we conducted a battery test, leaving the laptop playing consecutive YouTube videos in large window mode with the sound turned on, volume set to 50% and brightness to 50% also, with all background applications switched off. 
In this test we got 5 hours, which is quite disappointing, particularly as 50% brightness is definitely not sufficient for working outdoors in direct sunlight, and turning up the brightness to max would likely lose you an additional hour's worth, or thereabouts (although you would likely get some more juice if you were just word processing rather than watching YouTube videos). Although OLED displays are generally always more power-hungry, there are models on the market with substantially longer battery life, and it's a shame that there is not an AMD Ryzen 6000 series version of the Zenbook 14X OLED Space Edition, as these more energy-efficient CPUs would likely add another couple of hours on top.
Performance, noise & temperature
Noise
On the Standard setting the fans operate at a volume that's a bit louder than your typical notebook (though far quieter than a gaming laptop), but these can be reduced down in the onboard software (under Customisation > Power & Performance) to Whisper mode. This makes the fans barely noticeable at the expense of reduced performance and increased temperature, though this is fine for general Word processing and the like.
Setting the fan profile to Performance mode is only really recommended if you're doing an intensive creative / workstation task (rendering an image or video for instance) or some light gaming, as the noise that fans produce is fairly substantial – similar to what you'd expect from a gaming laptop.
External temperature
Exhaust vents are placed on the sides of the laptop, which is where the majority of heat is expelled. Although a noticeable amount of heat is expelled from the sides under Performance mode, the keyboard and chassis never got uncomfortably warm at any stage of our testing, on any of the settings.
Internal temperature
Generally speaking, internal temperatures during general usage (word-processing and web browsing) on either Whisper or Standard mode was fine. 
When playing CS:GO on low settings, with the Fan Profile set to Performance mode, we saw internal CPU temps average around the 90°C mark after about an hour's play, which is quite hot for this older game, though within acceptable limits. Still, you'll want to be aware that consistent, prolonged gaming will reduce the lifespan of the CPU. It's definitely not advised to play games on anything other than Performance mode for any length of time, given the increased heat output.
Asus Zenbook 14X OLED Space Edition benchmark
Gaming obviously isn't what this machine is designed to do, given the lack of dedicated GPU, but given the 90Hz display with very fast response time, we wanted to see how it faired in an older, more CPU-driven title like CS:GO.
We tested the machine with the Fan profile set to Performance and the display set to Vivid. We ran the game on the lowest graphical settings (which many CS:GO players use anyway to boost performance), at both the native resolution and at 1920 x 1200. As you can see below, the average FPS went well above the effective 90 FPS cap imposed by the screen's refresh rate. 
The higher resolution had a noticeable negative impact on the 1% and 0.1% drops, causing noticeable frame drops in-game from time to time. The higher 32GB RAM option (we were using 16GB) might help to alleviate some of this by compensating for the lack of VRAM somewhat, but generally, we'd advise playing it on the lower resolution regardless.
All-in-all, if you're a serious competitive gamer you won't be interested in this machine, but for some light gaming in less graphically demanding shooters like CS:GO, it performs decently enough that you can have a good time. It would also be perfect for less-demanding strategy/adventure titles, where FPS isn't as important (DOTA 2 or Crusader Kings II for instance) though as ever, make sure you check the system requirements of the game first.
Final Word
Everything considered, the Asus Zenbook 14X OLED Space Edition is a unique and beautiful laptop, but which has several flaws that prevent it from getting a must-buy recommendation. First among these is the battery life: a maximum of 5 hours really is lower than the average, even for OLED laptops of this size, and hinders its usefulness as a portable machine somewhat. Secondly, the poor color accuracy lets down what would otherwise be the ideal laptop for colorwork – although you can still use it for these purposes, creative professionals will likely want to look elsewhere. Finally, the peak brightness is somewhat disappointing and may put off people looking for something they can use outside in sunnier climates.
Were at least two of these factors not issues, we wouldn't mind paying the couple of hundred dollars more this laptop costs compared to much of the competition. At WePC, we usually favor performance over aesthetics, but this laptop is so unique, and the design that well thought through, that we can't help but love this machine more than the performance of the display and core components alone account for. Although we had some speaker-induced rattle at times on our unit, we haven't heard of this issue from other reviewers, so have chosen to refrain from this being reflected in the score, as besides this the build quality was exceptional. Ultimately this is a powerful laptop for the size if you opt for the i7 or i9 versions, and the 90Hz display option is great for those who fancy a bit of light gaming alongside their general usage. It has a good selection of ports, is a pleasure to type on, the trackpad is great, and the speakers are nice and loud. Despite the drawbacks, this is still a laptop we wish we owned.