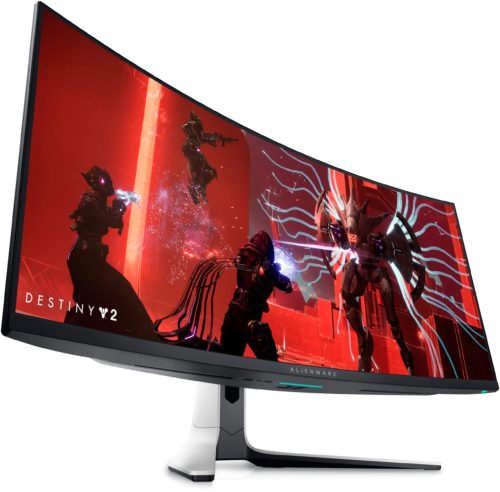 We take a closer look at two of the best Alienware monitors
Updated: Mar 6, 2023 4:20 pm
01
Alienware AW3423DW
02
Alienware AW3420DW Curved Gaming Monitor
Well, what better monitor to compare the already great Alienware AW3423DW than with its predecessor from three years ago? Alienware AW3420DW was a top-tier display when it was released back in 2019, and it still remains a good ultrawide monitor solution. However, how far will it go against Alienware's newest 34-inch beauty? Read below, and we'll discuss all the details.
Alienware AW3423DW vs Alienware AW3420DW: Specifications
Alienware AW3423DW
Alienware AW3420DW Curved Gaming Monitor
Specifications-wise, the AW3423DW shines with its monumental QD-OLED panel, 175Hz refresh rate, and 1ms response time. The Fast Nano IPS panel of the AW3420DW is no slouch either, but it can't compete with the colorful magnificence of the QD-OLED. It's unfair, really – OLED technology tips any discussion in favor of whoever boasts it. With quantum dots, even further. 
As for Alienware AW3420DW, it has a native refresh rate of 120Hz and a slower response time of 2ms. It also has no HDR support, which is a solid nuisance, especially if you plan on watching movies or TV shows on your monitor. It has a minimally lesser 1900R curve(Alienware AW3423DW has 1800R curvature), and just the basic G-Sync support, while the AW3423DW sports G-Sync Ultimate. G-Sync Ultimate is a step above its original version, with optimization for HDR gaming – something the AW3420DW utterly lacks.
Alienware AW3423DW vs Alienware AW3420DW: Performance
Continuing to the performance, the three years between monitors' respective release dates show. While the AW3420DW remains (and will remain for a while) an excellent monitor in its own right, it's clear that the AW3423DW is just better in each detail. Its QD-OLED panel produces images that are simply stunning, and its faster refresh rate and lower response time make it more gaming-adapted. Just look at the colors – who's the boss will show already.
Alienware AW3423DW vs Alienware AW3420DW: Price
Alienware AW3420DW can be found right now for around $713 on Amazon, while the AW3423DW is priced at $1170 on Dell's official website (if you use the code they give you at checkout). It's a ~ $450 difference, but it's well justified due to the AW3423DW's cutting-edge technology, which is just a testament to how far the monitor industry has come.
Alienware AW3423DW vs Alienware AW3420DW: Which is best
Alienware AW3423DW is the clear winner. With its QD-OLED panel, and just purely better specifications, it's just a no-match for the AW3420DW. After all, it's the upgraded version of it, much better in all regards. The difference in cost is well-warranted – you won't regret buying Alienware AW3423DW, that's for certain. It's an investment in the future. And those kinds of investments always return the most.