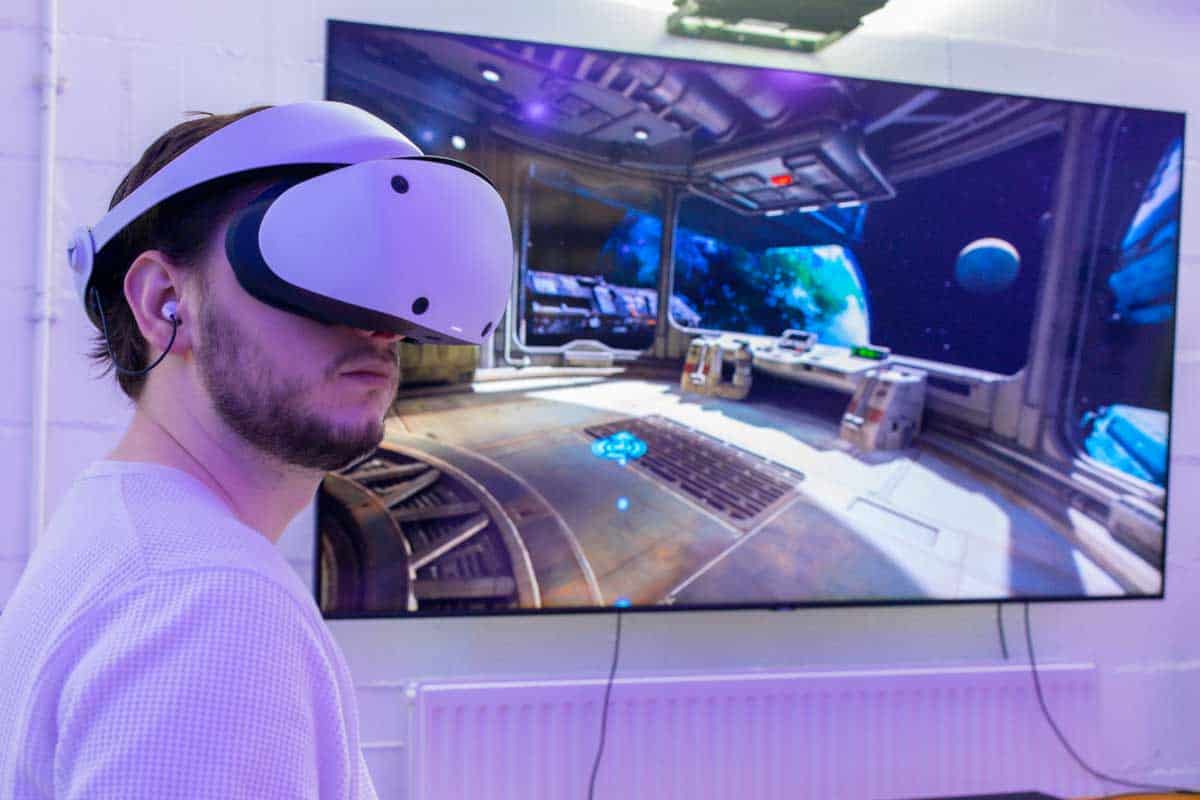 PSVR 2 motion sickness got you down? Here's how to fix it
Updated: Mar 6, 2023 3:47 pm
Despite the laudidge heaped upon the PSVR 2, motion sickness appears to be a common problem among players, especially for those entirely new the using VR headsets.
This is unsurprising as motion sickness has been a problem since VR headsets emerged. It makes sense too, as it can be very disorientating, in some cases requiring a long adjustment period.
Sony PSVR 2
Cameras
4 embedded cameras for headset and controller tracking IR camera for eye tracking per eye
Sensors
Six-axis motion sensing system (three-axis gyroscope, three-axis accelerometer) Attachment Sensor: IR Proximity sensor
Display resolution
2000 x 2040 per eye OLED panels
FOV (field of view)
Approx. 110 degrees
Dropping almost $500 on the PSVR, then discovering you can't use it because you feel too nauseous can be a pretty depressing prospect, so we're going to help.
So, don't go trading in your PSVR 2 just yet, as all hope is not lost, as we might be able to help out. So, here are 3 quick fixes for your PSVR 2 motion sickness problems
How to reduce motion sickness on PSVR 2
This sounds like a no-brainer, but during the testing period for our PSVR 2 review, we noticed that it's very easy for the headset to migrate out of position. This makes the view more blurry, and can also give the edges of the image a sort of warped effect. So, make sure to check the following points:#
How to reduce PSVR 2 motion sickness – Top tips
Make sure the headset is adjusted correctly
Make sure the back of the headband is low enough. We find that a lot of people are wearing the PSVR 2 headset incorrectly. The headband should sit closer to the base of your skull as opposed to level with the forehead. This should prevent it from sliding forwards, and misaligning the lenses. Make sure the headset is tight enough. If you've been taking turns with the PSVR 2, chances are that you're not tightening it enough. This can lead to the same misalignment problem we mentioned above.
Redo the setup process
Redo the setup process. You might have rushed this during the feverishly exciting experience of getting the PSVR 2. Go to the settings menu and do it again, taking your time to make sure everything is right.
Wear your glasses
Yes, indeed, you can wear glasses with the PSVR 2, just as long as they aren't super bulky, wide, or otherwise ostentatiously designed. A lot of people just assume that you can't wear glasses with VR headsets without checking. If this sounds like you, give the glasses a go and see if it improves.
Take a break
This is probably the most reliable solution. Take the headset off, and take a walk around for a bit. Downing a pint of water is a good shout too, just in case. This will give you an opportunity to re-orient yourself and you'll find your stomach will settle after a while.
What causes VR motion sickness?
The p[prevailing reason for VR motion sickness that most people agree on is what's known as 'sensory conflict theory'. This sounds complicated but its pretty simple as everyone has experienced it at least a few times in their lives.
What is sensory conflict theory?
Sensory conflict theory, in its simplest terms, is what you experience when there is a mismatch between visual stimuli and vestibular stimuli. (vestibular here refers to the sensory system responsible for spatial awareness and balance.)
So, when the visual stimuli and the vestibular stimuli don't match up, some people get motion sickness. Nausea and dizziness are the results of your body trying to resolve these differences.
It's the same collection of issues that cause travel sickness. For example, the physical sensation of traveling in a car might not tally up with the visual information being absorbed, and again, the discrepancy causes the symptoms.
As you can imagine, incidences of VR motion sickness were more frequent in the early days, less widespread adoption of VR notwithstanding. This is because the limited technology of those times meant that the experience was even further from reality than it is now. So the discrepancy we mentioned earlier was even larger.
What is the quickest way to reduce motion sickness with the PSVR 2
Take a break, where your glasses (if you have them), and make sure the headset is adjusted correctly
What causes VR motion sickness?
VR motion sickness is caused by a discrepancy between what the eyes see, and what the body feels. This is known as 'sensory conflict theory' and is the prevailing theory behind VR motion sickness