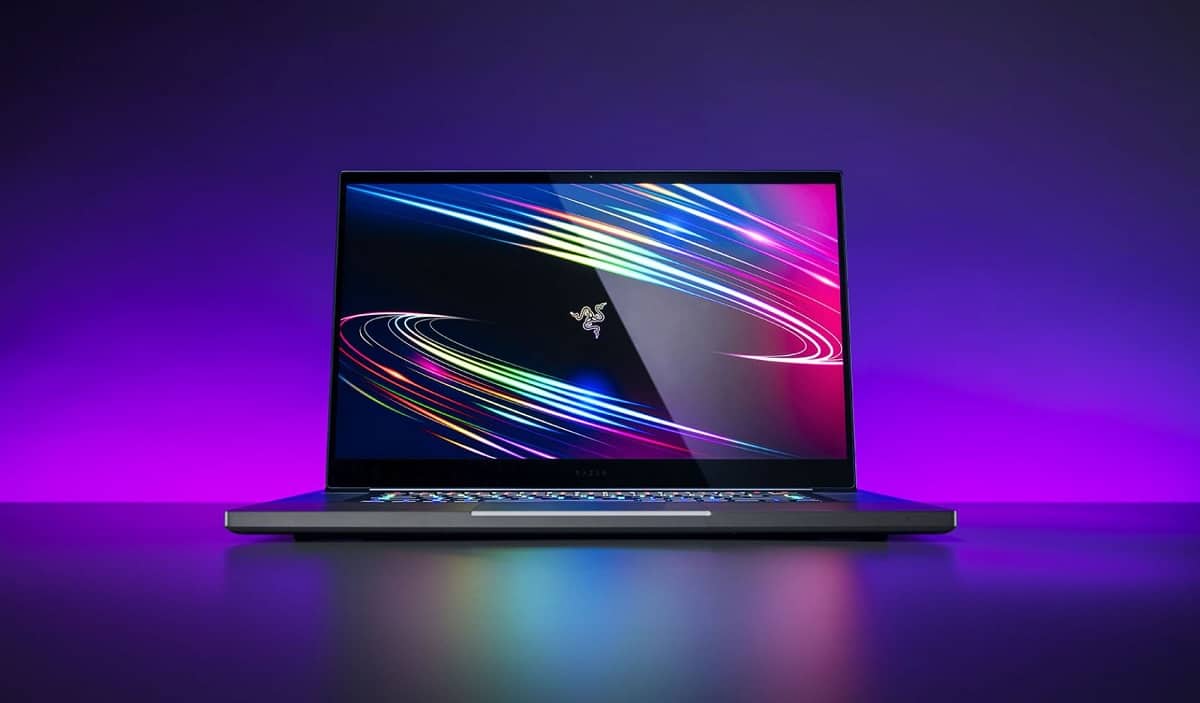 The best 4K gaming laptops of 2023: covering a variety of price points, sizes, and GPU & CPU combinations
Updated: Mar 9, 2023 4:08 pm
01
Best overall 4K gaming laptop
a 16″ 4K gaming laptop with Mini-LED display that converts to 240Hz FHD
Razer Blade 16 (4K/FHD, i9-13950HX, RTX 4090)
02
Best 17-inch 4K gaming laptop
A powerful 4K gaming laptop with high-TGP RTX 3080 Ti
MSI GE76 Raider 12UHS (UHD 4K 120Hz, i9-12900HK)
03
Best value 4K gaming laptop
A 17 inch 4K gaming laptop with raiseable keyboard
ASUS Zephyrus S17 (4K, 120Hz, RTX 3080)
If you're looking for the best 4K gaming laptop for your needs in 2023 then look no further.
Whereas once gaming at 4K/UHD resolution was an unrealistic dream, particularly on a laptop, developments in GPU technology and efficiency mean you can now actually enjoy games on this resolution at a respectable refresh rate, as long as you don't mind the hit to your wallet. In fact, we've got a couple of (relatively) affordable options that might make that hit a bit less severe.
If you're not sure what you should be looking for / thinking about when shopping for a 4K gaming laptop, then take a look further down this page at our Things to consider when buying a gaming laptop section, and the FAQs below it, where we break down the main considerations.
If you already know what sort of device you're looking for, let's waste no time and dive right in!
Best 4K gaming laptop deals
MSI Raider GE66 (15.6″) – 120Hz UHD 4K, Intel Core i9-12900HK, RTX 3080 Ti, 32GB DDR5 RAM, 1TB SSD – was $3,999.99 now $3,199.99 
MSI Stealth GS77 (17.3″) – 120Hz UHD 4K, Intel Core i9-12900H, RTX 3080 Ti, 32GB DDR5 RAM, 1TB SSD – was $4,199.99 now $3,199.99
---
Best 4K gaming laptops 2023
The best Overall 4K gaming laptop & best 16 inch 4K gaming laptop
Razer Blade 16 (4K/FHD, i9-13950HX, RTX 4090)
120Hz / 240Hz (switches between both)
4K / FHD (switches between both)
Pros
ridiculously powerful GPU & very powerful CPU

very bright mini-LED screen

great color replication

240Hz FHD/1200p mode for competitive gaming

great build quality and aesthetic

good voltage & fan customisation in onboard software
Cons
very expensive

240Hz FHD mode is less sharp and requires reboot to switch on

noisy fans when presets set to high

battery life could be better (though could be worse)
The Razer Blade 16 with Intel Core i9-13950HX processor and Nvidia RTX 4090 graphics card is one of the most premium machines out there. Not only does it come with extremely powerful core components which will demolish any game at 4K resolution, it has the top notch build quality and slimline portability that Razer is well known for. Be aware though that using the (nicely in-depth yet easy to navigate) onboard software to maximise the laptop's performance will cause the fans to get very loud, though you can tweak this to achieve the best balance for your needs, and turn them right down when not gaming.
What truly sets this laptop apart though, is the display. The screen is Mini-LED, which means that it has top-notch peak brightness (1,000 cd/m²) – ideal for working outdoors or in bright sunshine, and supports HDR mode. The 100% sRGB and DCI–P3 coverage makes it ideal for color-accurate workflows in either of these color spaces, and in games the colors really pop. 
Besides this the screen has a unique feature – it can switch between UHD/4K resolution with a 120Hz refresh rate or to 1920 x 1200 resolution with a fast 240Hz refresh rate for competitive gaming. However the feature requires you to reboot the laptop which is a bit annoying but not too inconvenient – more unfortunate though is the picture definitely loses sharpness (more so than on a native 1200p screen) as the artificial resolution is engaged. It's still a nice option to have though.
Although the 16-inch display is a great compromise between immersion and portability, for 4K we would ideally have liked a bit more real estate to make the most of the high resolution.
Unsurprisingly for a mini-LED display, you'll be lucky to get 4 hours of battery life out of this machine, but as far as gaming laptops go with components this powerful we've seen worse. All-in-all, if you can afford the steep asking price this is a beautifully designed gaming monster.
The best 17 inch 4K gaming laptop
MSI GE76 Raider 12UHS (UHD 4K 120Hz, i9-12900HK)
Nvidia RTX 3070 Ti / 3080 Ti
Pros
UHD display version has great contrast and peak brightness

powerful Intel HK CPU

superb response time with overdrive

detailed BIOS for performance tweaking

good port coverage and SD card slot

respectable speakers for a gaming laptop

1080p webcam
Cons
highly priced for a previous-gen machine

No G-Sync

battery life could be better
MSI has yet to release its latest 4K gaming laptops with RTX 40-series graphics cards in 2023, so until then the best 17-inch 4K gaming laptop available remains the MSI Raider GE76 12UHS.
This machine comes with a couple of different GPU options, but the most powerful is the RTX 3080 Ti equipped variant, which is the highest-TGP graphics card of its kind. Coupled with the still very powerful Intel Core i9-12900HK, still one of the most high-end laptop CPUs that money can buy, and the Raider GE76 is contender for the most powerful gaming laptop of 2022 in in-game FPS terms.
It still remains very expensive for what is now a previous-gen machine, without the advantages of DLSS 3.0 that Nvidia 40-series equipped laptops will have, however in all other areas it doesn't skimp: you get a MUX Switch, DDR5 RAM, Wi-Fi 6E card, a display response time fast enough to completely eliminate ghosting at the 120Hz refresh rate, good build quality, a solid keyboard and trackpad, and a rather fetching RGB light strip along the front of the machine. One area that is lacking is G-Sync, but this is a rare sight among laptops at this resolution anyway.
The 12UHS variant comes with a HDR display that has superb contrast and peak brightness. Color replication in the sRGB space is good enough for gaming, although the DCI-P3 coverage is lacking for color-accurate work in this space. Battery life maxes out at about 5 hours of general usage, which is not terrible considering the display and the hardware, though limits its use somewhat for non-gaming purposes.
All-in-all, it might not be at the bleeding edge any more, but this remains the most powerful premium 4K gaming laptop with a 17.3″ display.
Best value 4K gaming laptop
ASUS Zephyrus S17 (4K, 120Hz, RTX 3080)
Nvidia GeForce RTX 3080 (100-140W)
Pros
excellent response time

good peak brightness and contrast

nice optomechanical keyboard & trackpad

raised keyboard improves cooling

slimline and portable for such a powerful laptop

detailed fan and voltage controls
Cons
Older 11th gen Intel CPU

No MUX Switch

No G-Sync or FreeSync

webcam and microphone could be better
The ASUS Zephyrus S17 is an older generation machine that you're unlikely to find anywhere brand new, but refurbished editions of this laptop offer a great value alternative to the eye-watering prices of the top selections on this list, and it can still play the latest games at 4K resolution, even if you won't get the performance of the above laptops (we'd generally advise medium-upper medium graphical settings on this machine, depending on the title).
The maximum specced version has an Nvidia GeForce RTX 3080 (16GB) graphics card with the maximum TGP of 140W (with Dynamic Boost), which mops the floor with lower-powered RTX 3080 laptops. The Intel Core i9-11900H CPU is the most powerful 11th gen Intel processor available – a couple of generations older now but still a decent performer. We would have liked to have seen a MUX Switch to give an extra performance boost in-game, as is now the norm in high-end gaming laptops, however, the Zephyrus S17 still hits hard without it
The 120Hz screen has an impressive average grey-to-grey response time of 5ms (once you enable Overdrive), which means you shouldn't be able to detect any ghosting whatsoever at this refresh rate. Unfortunately there's no FreeSync or G-Sync, which may put some people off, but this is the price you pay for something more affordable. The 95% sRGB color replication is plenty good enough for gaming on, as is the impressive peak brightness and respectable contrast, though less so for color-accurate creative work.
The raiseable keyboard design of the Zephyrus S17 is supposed to both improve the typing angle for your hands (which takes a bit of getting used to but is effective) and also allows greater airflow to improve cooling and reduce thermal throttling on the performance of the core components. This latter feature is apparently reasonably effective, and it's good to see increasing ingenuity in laptop design. The standard of both the optomechanical keyboard and the trackpad is also good, as is the overall build quality.
Considering the size of this gaming laptop, and the power of its core components, it is remarkably slim and lightweight: coming in at around 6.21lb / 2.82kg, though this is without the typically hefty power brick. It's a good-looking machine to boot. Battery life is respectable if not amazing at around 5 hours of non-gaming usage. The onboard software is an overly busy eyesore, but it impresses where it matters – giving nice granular control of fan speed. The webcam and mic aren't of the best quality, though not the worst we've seen either.
All-in-all, the ASUS Zephyrus S17 is a (relatively) affordable way to enjoy 4K laptop gaming and is a nice-looking, portable machine.
An affordable 4K gaming laptop with Mini-LED display
Gigabyte AERO 17 YE (Mini-LED, 120Hz 4K)
NVIDIA GeForce RTX 3080 Ti
Pros
good price for a 4K laptop

bright min-LED screen

UHD gives great contrast

great color replication
Cons
previous gen CPU & GPU

relatively low TGP RTX 3080 Ti

some units reportedly have performance issues / need returning
The Gigabyte AERO 17 YE is primarily a laptop for creators, though its 120Hz refresh rate makes it a solid 'budget' (and we use the term loosely) 4K gaming laptop.
Although at first glance this Gigabyte AERO 17 YE would appear to be the more powerful choice for 4K gaming compared to the Zephyrus S17 above, thanks to its RTX 3080 Ti, the power of this graphics card is actually below that of the RTX 3080 in the aforementioned machine. The RTX 3080 Ti has a max TGP of only 105W, though it's still more than powerful enough to play high-end games at 4K resolution, though not on the highest settings. The Intel Core i7-12700H also packs a substantial punch.
Besides the core components, you also get a very bright mini-LED screen: ideal for working or gaming in bright sunlight. Although we haven't tested the veracity of this claim, Gigabyte state that the display has 100% DCI-P3 coverage. Given it's a creator's laptop it will certainly perform better for color-accurate work than most of the other selections on this page.
In terms of general build quality, it has a solid aluminium body though there have been a few quality control issues reported on some units. We'd advise checking the return policy on yours before you buy it – chances are yours will be fine, but it's better to be safe than sorry!
If you're not wedded to the 17.3″ size you can always go with the 16-inch variant (though make sure it's the one with the 120Hz screen), which you might be able to get for even cheaper.
---
Things to consider when shopping for a 4K gaming laptop
Is 4K worth it for gaming?
Gaming at 4K should only be considered if you're either willing to spend top dollar and are already intending to spend the money on a high-end GPU and CPU, or if you want a 4K screen for other purposes – such as creative workflows (graphic design, video editing, animation etc.).
The introduction high-end Nvidia 30-series laptop GPUs were the first time where 4K gaming laptops really made sense, particularly with the introduction of upscaling technologies like DLSS 2.0 and FSR 2.0 that made gaming at these resolutions with decent FPS more feasible. The new high end Nvidia 40-series graphics cards (RTX 4090 laptop and RTX 4080 laptop GPUs specifically) with DLSS 3.0, have made it even more feasible.
What performance will I get gaming at 4K on a laptop?
With a high-TGP RTX 3080 Ti laptop, if you play the latest games on maximum settings you can expect to get an average of around 50FPS at 4K resolution, though this varies substantially depending on the game (between around 30-140 FPS, though most titles will be somewhere in the middle of this range). An RTX 4080 laptop by contrast will average at around 65FPS (ranging between around 35-180FPS), and an RTX 4090 laptop will average at circa 80FPS (ranging from around 40-215FPS).
Switching to slightly settings whilst sticking to 4K resolution will get you better performance. Our advice would be to do a bit of research into the games you're interested in beforehand to see how well they run at 4K.
What is the best size for a 4K gaming laptop?
The bigger the better! Generally we'd advise going with a minimum display size of 16-inches when shopping for a 4K gaming laptop, any smaller than this and you won't really appreciate the resolution. 17-inch and the newly reintroduced 18-inch laptops are the preferred option though.
4K gaming laptop FAQs
Can laptops do 4K gaming?
As long as the laptop is powerful enough, 4K gaming is indeed possible.
Until the last couple of years, 4K gaming hadn't been practical, as the FPS output at this resolution of even the most powerful GPU and CPUs hadn't been sufficient to justify it. Today, the most powerful laptops can run games at 4K resolution on high settings and get good Frames Per Second, though they don't come cheap.
Is 4K gaming overkill?
4K gaming is arguably somewhat overkill, and we wouldn't recommend it unless you're willing to spend a good amount of money. Ultimately most people would be better spending their money on a better GPU, CPU with good resolution and refresh rate first.
We wouldn't say 4K resolution is generally worth it on a 15-inch gaming laptop or smaller, unless you also need this resolution for creative purposes. But, if you're getting a nice big laptop screen, and have the currency, there's no doubt that 4K gaming on high settings looks damn good.
4K gaming laptop : Final Word
We hope this 4K gaming laptop guide has provided you with all the info you were looking for. Do be sure to check out our main best gaming laptop page if you didn't find what you were looking for here, or our various price guides in the drop down menu at the top of this page.