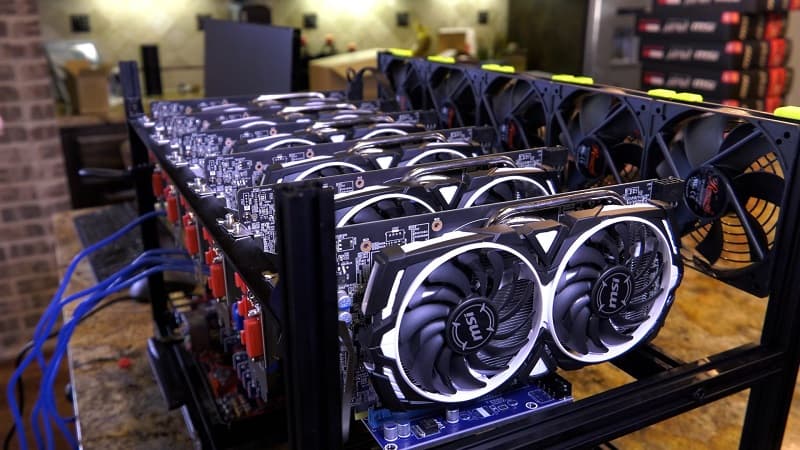 Let's find you the best mining GPU
Updated: Mar 8, 2023 3:26 pm
Hi-Ho, Hi-Ho it's off to mining cryptocurrency we go. Just like Snow White and the Seven Dwarfs, mining cryptocurrency is not as popular as it once was, but for some, it can still earn a profit.
A lot of the major cryptos are still going strong, with others just starting to hit their stride. Whether you have been mining for years or are a complete newbie, you are going to want the best graphics card for mining.
In this article, we are going to be looking at the five best GPUs for mining, a brief introduction as to what cryptocurrency mining is all about, and what the best GPU would be for your needs.
Let's get stuck in and find the best GPU for you miners out there.
Things to consider before buying a mining GPU
When on the lookout for a new mining graphics card, there are a few things you need to consider first. You want to take note of how much memory the GPU has, its power draw, and how much it is going to cost.
Getting a large yield from your mining will take some time or obviously a large initial investment, so it is important to consider external costs like electricity. Making these considerations will allow you to minimize your costs and maximize your profits which are going to be crucial for making back your investment.
Remember to calculate power consumption if you are going for a multi-GPU setup as you may need a very powerful PSU to power your mining system. A standard 750 W PSU can handle two powerful GPUs so be wary!
It is worth noting to look out for two years+ warranty on products you are buying for your mining rig. This is important as your system will most likely be running 24/7, and this can harm your components a lot faster.
What is Cryptocurrency Mining?
You have probably heard of cryptocurrencies such as Bitcoin and Ethereum, right? Well, the idea behind them is that you would generate and transfer these currencies without the need of any bank.
What you use to mine with can vary quite a bit. In the past, before the boom, it was quite common to see CPUs being used. Over time, with GPUs being better equipped to guess more correct strings per second, they soon took over.
To mine in a secure manner, a computer will try to guess a string. The number of guesses your machine makes is known as a hash rate, so we want a GPU that has a higher hash rate when it comes to mining.
Is an AMD or Nvidia GPU better for mining?
When it comes to mining cryptocurrencies, you may find that certain graphics cards favor some algorithms over others. So what card you choose could be largely down to what you want to mine.
Typically, Nvidia cards are quite balanced when it comes to hash rate and power draw. AMD cards tend to require more research and work to get the best results. This means you will need to be experienced or willing to learn to overclock and how to use your BIOS.
Nvidia's hardware normally costs more than AMD's, which opens the door to personal preference. If you can find a good deal on an Nvidia card, then snap it up as they tend to have a smaller learning curve when it comes to overclocking.
GPU mining holdback
If you are considering going for GPU mining then you still might have some holdback to not doing so. As such we have a few areas you may want to read through what some questions you may have.
Best graphics cards for mining
ASUS ROG Strix RTX 4090 OC
Pros
Excellent air cooling solution

Pushes performance above the rest of the selection

Updated design cooling and aesthetically focused
Cons
A more expensive choice over the rest of the picks and will cost a lot to run
If you're going for the GPU with the best hashrate, then the RTX 4090 is the best choice of card out there currently. Hashrate comes from the ability of the card to work out the mathematical challenges to mine the blocks.
So as the top performer of the range, it has the top spot in hashrate. With a rate of 5.2 GH/s set at 330W, It supposes a revenue of $1.30 per day. So it will only take you 8 years to pay off…
And the Strix card is the top choice of the pack. As with a great-quality build it can last a while. Especially with the cooling capacity available, it makes sure it won't degrade as much over time.
ASUS TUF Radeon RX 7900 XTX OC
1,895 MHz base, 2,395 MHz shader & game, 2,565 MHz boost
Pros
Great cooling solution that improves thermals and fan curves over reference

Improved power management from an experienced brand

High quality build and overclocked for top tier performance
Cons
A slightly more expensive option for its better perfromance and quality
On the other side of the playing field from AMD, there is another top performer. Leading the RDNA 3 lineup, the RX 7900 XTX is the top performer. This means it also is a great card for mining.
With a hash rate of 1.8 GH/s at 350W it's not as perfect of a choice for performance per watt but it is up there. So it sure is another good choice of card to match what the rest can achieve.
And the TUF model is a great choice to pick from. With a great build quality to last a lifetime and the cooling system keeps the temperature down and keeps the life of the card up.
EVGA RTX 3090 Ti FTW3 Black
1560MHz base, 1860MHz boost
300 x 137 x 64mm (11.8″ x 5.4″ x 2.5″)
Pros
Cheaper cooling solution

Plenty of thermal capacity

12 heat pipes and vapor chamber for good heat transfer
Cons
Cheaper design not suitable for everyone
As the flagship of the Ampere generation, the RTX 3090 Ti is another great card when it comes to hashrate. With a 2.9 Gh/s at 350 W, it does well but still falls behind the 4090s power.
It is yet another top contender for performance and the mining power to match. And the EVGA is a great choice for achieving the best.
With great quality and build it can last some time, and keep up the performance with the cooling capabilities.
Final word
With a huge variety of choices of GPU to the various amounts of cryptocurrencies up for mining, it is no wonder miners sometimes scratch their heads. Finding the best graphics card for mining doesn't always have to be a headache, with new products driving down the prices of some of our favorite mining GPUs.
Of course, the choice is down to preference but just make sure you have considered the costs and you maximize your profits. Calculate what you stand to gain and how long it may take to get a return on your initial investment.
FAQs
What is the best mining GPU?
For the biggest hash rates, you need to look at the top of the product rankings to get matching levels. As such the RTX 4090 is at the top of the leaderboard, with the 3090 Ti, and 3080 Ti close behind too.