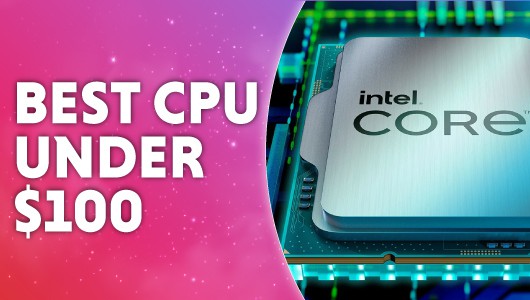 What's the best CPU you can get under $100?
Updated: Mar 15, 2023 2:38 pm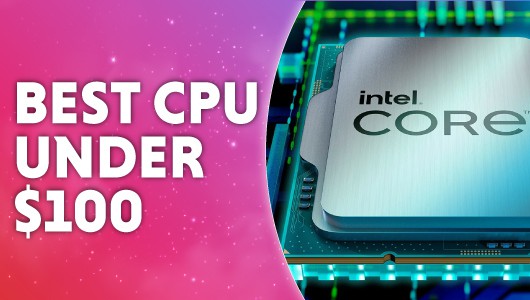 Today we're looking for the best CPU under $100, if you're willing to stick it out and take your time then you can definitely find a deal worth taking out there.
Now Read: Best gaming CPU
You might be thinking that there's nothing worth having for under $100, and normally you'd be right if we're talking about gaming or workstation workloads. But a $100 CPU is more than capable of office work such as word processing, and internet browsing.
---
Best CPU under $100: Top picks
01
best CPU under $100
Core i3-10100F
Intel Core i3-10100F
02
best CPU under $100 for productivity
Ryzen 5 5600
AMD Ryzen 5 5600
03
best CPU under $100 for gaming
Ryzen 5 5600G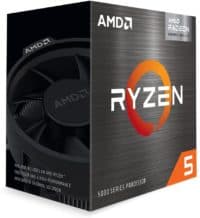 AMD Ryzen 5 5600G
---
What to look for in a CPU under $100
If you're in the market for a CPU under $100, your goal is probably to get a budget-friendly processor that can offer you a comfortable and smooth experience while you go about your everyday computer usage. Or, perhaps, you're looking for one that is able to offer you a decent gaming experience. Say, at 1080p and 60FPS. 
If that is indeed the case, then you'll find that today's budget processors under $100 are more than up to par. Thanks to the fierce competition we've been seeing between Intel and AMD, we now have several excellent options to choose from, particularly in the Intel Core i3 and AMD Ryzen 3 lineups. With a $100 budget, your best bet would be to go with a modern hyperthreaded quad-core processor. Our top pick is the Intel Core i3-10100F.
---
Best CPU under $100: Things to consider
When shopping on an extreme budget, you're going to have to sacrifice a couple of things, in the name of saving money. These will be things like cores, core speed, and heck, you might even have to go secondhand if you truly want to save a buck or two.
Here are some things to consider when shopping for the best CPU under $100.
Cores and Threads
The CPU's cores are responsible for executing instructions and performing calculations. The number of cores determines the number of simultaneous tasks the CPU can perform, leading to faster and more efficient processing of tasks. Applications that benefit from multiple cores, such as video editing or rendering software, can be executed more quickly and efficiently.
Threads are virtual cores that allow a single physical core to perform multiple tasks simultaneously. CPUs that support multi-threading can handle more tasks concurrently than those without, leading to improved overall performance and faster processing times.
The combination of core and thread count is crucial for CPU performance in various tasks. CPUs with higher core counts and multi-threading support can perform well in tasks that require high parallelisms, such as gaming, video editing, or scientific simulations. However, CPUs with fewer cores but higher clock speeds may perform better in tasks that require single-threaded performance, such as some gaming or office applications.
Core Speed
Core speed, or clock speed, refers to the rate at which a CPU's processing cores can execute instructions. The faster the core speed, the more instructions the CPU can complete per second, leading to faster and more efficient processing of tasks, such as running applications or playing games.
CPU Generation
CPU generation represents the version or iteration of a CPU's design and architecture. With each new generation, advancements in technology lead to better performance and efficiency, such as increased core counts, higher clock speeds, and improvements in power efficiency.
Newer generations of CPUs often feature improved architectures that enable faster and more efficient processing of instructions. They may also include additional features, such as integrated graphics, enhanced security, or support for newer technologies like PCIe 5.0 or USB 4. Additionally, newer CPU generations are manufactured using smaller process nodes, resulting in lower power consumption and better thermal performance.
CPU Socket
A CPU socket, found on a computer's motherboard, is a physical interface that houses the CPU and facilitates its communication with other components such as memory, storage drives, and expansion cards. Each CPU has a specific size, shape, and electrical properties that correspond to a specific socket type on the motherboard.
It is crucial to ensure compatibility between the CPU and motherboard socket type when installing or upgrading a CPU. Failure to do so will result in a non-functional or ill-fitting CPU.
Having established these considerations, the next step is to select the best CPU under $100. But which one should you choose?
---
What is a good cheap CPU?
A "good cheap" CPU depends on what you're going to use it for. A cheap CPU can be good at different things. If you opt for a 13th gen Intel baseline CPU, then it's going to be better for gaming than a lower-end Ryzen CPU.
You have to pick and choose what use case your cheap PC is going to have and pick a CPU accordingly because use case matters on this end of the scale. The more money you pump into a CPU, the better they become at everything.
If you want a good cheap CPU for gaming, then you should snag yourself an Intel CPU, if you want a good multi-threaded processor, then you should go for AMD. But make sure you check and compare the CPU's generations, clock speeds, and core counts, as we discussed above.
---
Best CPU under $100
Here we will divide the results into three sections, best CPU under £100 for general use, for gaming, and for office work. This ensures we get the right CPU to the right person.
The best CPU in general has to be the Core i3-10100F.
Intel Core i3-10100F

Intel Core i3-10100F
Pros



Low cost




High base and boost speeds for i3




Easy to cool
Cons



Low multi-threaded performance
The Intel Core i3-10100F is an entry-level processor that was released by Intel as a part of their 10th generation lineup of Core processors in Q4 2020. This processor has fairly standard specs for a quad-core, but what does stand out is the 4.3GHz clock speed, which is notably higher than that of other processors in the same price bracket. 
Speaking of price, the Core i3-10100F launched at an MSRP of $117, but that was its price over two years ago. These days, you can easily find it being sold for under $80 and as low as $70, which means you can save a fair bit of money even on a $100 budget. 
Despite its low price, the 10100F delivers a very practical level of performance in daily use cases.
In more demanding scenarios such as gaming, the 10100F performs respectably well too. Its 4.3GHz maximum clock speed gives it solid single-thread performance, which, for most titles, is directly tied to in-game performance. 
You can expect a steady 60FPS in most action-adventure 3D titles and triple-digit framerates in shooters like Valorant and CS:GO. 
4 cores and 8 threads are below average by modern standards, but this configuration is adequate for gaming in 2023. Most games – and especially older ones – don't use many threads, so quad-core processors with hyperthreading continue to be viable. 
However, it is important that the processor has hyperthreading (or SMT if you're buying an AMD CPU). It yields incredible performance gains in multithreaded workloads and prevents your quad-core CPU from bottlenecking in more demanding titles. 
A large part of why we've gone with the 10th generation Core i3 is because of the availability of hyperthreading. The earlier generations of Core i3 processors don't have this feature, which is why it's difficult to recommend going for a Core i3 processor generation 9 or lower. 
---
Best CPU under $100 for productivity
Here we have the best CPU under $100 to work with, literally. We have chosen the Ryzen 5 5600
AMD Ryzen 5 5600
AMD Ryzen 5 5600
Pros



Affordable




Powerful mid-range CPU




Bundled cooler




Abundant motherboard support
Cons



Beaten by cheaper Intel CPU




AM4 is nearing end of life
The Ryzen 5 5600 offers impressive specifications at an affordable price point, boasting six cores, 12 threads, and a boost clock of up to 4.4GHz.
For individuals seeking performance without breaking the bank, the 5600 delivers considerable power with its multithreaded cores, as well as a base clock of 3.5GHz. Ryzen CPUs frequently boost during operation, and the 5600 has plenty of room to optimize performance as needed.
AMD lacked 'budget friendly' mid-range options in their 5000 series line-up, which have now been beaten out in terms of price to a performance by Intel's 12th generation processors. In response, AMD has now released three budget CPUs: the 5500, 5600 and 5700X. We incidentally have 'where to buy' pages on all three.
When AMD released its 5000 series in 2020, Intel failed to compete with the 5600, 5500, and 5700X, resulting in AMD not releasing them. With the absence of competition, AMD raised the base CPU prices. However, with Intel's introduction of the 12400F and other 12th-gen budget processors, AMD has been compelled to offer more budget-friendly CPUs to prevent Intel from obtaining market share.
AMD's lack of release of budget CPUs beforehand may have contributed to their loss of momentum, as they instead increased the MSRPs of Zen 3 significantly compared to their older Zen 2-based Ryzen 3000 processors.
The 5600 is a great pick for anyone looking to get multi-core performance on a tighter budget.
---
Best CPU under $100 for gaming
We have a CPU here that might run you slightly over the CPU budget but can save you from having to pick up a GPU.
The G-series from AMD are special because these APUs can benefit from AMD FSR and other software improvements. FSR has been known to drastically increase performance on even the worst GPUs.
AMD Ryzen 5 5600G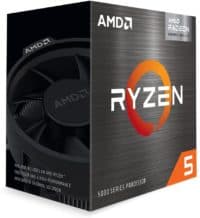 Pros



Inexpensive




Great iGPU for the price




benefits from FSR
Cons



Not as powerful as the 5600X
Geared towards budget-conscious builders, the Ryzen 5 5600G is an affordable option that delivers comparable gaming performance to its predecessor, the 3400G. What sets it apart is the inclusion of more cores, threads, and a more efficient design.
Specifically, the Ryzen 5 5600G boasts 6 cores and 12 threads, clocked at 3.9GHz base and 4.4GHz boost, with 16MB of L3 cache and 3MB of L2 cache. Its 65W TDP is equipped with AMD's VEGA 7 iGPU, featuring 448 stream processors and clocked at 1.9GHz.
While some may view Vega 7 as a downgrade, its increased efficiency compensates for the reduction in cores, resulting in uncompromised graphical performance.
The Ryzen 5 5600G is one of the best values out there, for an APU. You can pick up a brand-new 5600G for around $120 as of the time of writing this, and picking one up can save you the hassle of having to buy a GPU.
When paired with a GPU, the 5600G will act like a slightly underpowered 5600X, with the same number of cores and threads, just with a little less speed. the 5600X is still an incredible processor, so having a CPU that performs just shy of one can still make for a great CPU.
---
Final word
Any one of these CPUs is great for budget-oriented builders, they can all be great when confined to an incredibly tight budget. As always, CPU performance relies on other components of the computer, such as RAM and motherboard.
In conclusion, after evaluating various options, we have identified the best CPU under $100 that offers exceptional value and performance for budget-conscious consumers. Whether you're a casual user or a gamer, the AMD Ryzen 5 5600G stands out as the top pick with its reliable processing power, integrated Vega 7 graphics, and a price tag that won't break the bank. It's a solid choice for those who want to build a capable PC without spending a fortune.